New Company Saves Fuel and Cuts Greenhouse Gases: Recycled Energy Development, LLC. Targets Industrial Waste Energy
Westmont, IL (PRWEB) April 5, 2007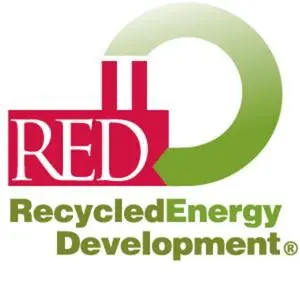 Recycled Energy Development (RED) cuts greenhouse gases profitably through the development and ownership of energy recycling facilities. RED captures waste heat from industrial operations in order to produce electricity and useful steam, all without burning any additional fuel or emitting any additional pollution or greenhouse gases. For industrial partners, RED reduces energy costs substantially, increases reliability and offers the opportunity for emissions credits.
RED seeks to take advantage of the opportunities presented by today's inefficient and unreliable electricity system. The average U.S. power plant was built in 1964, using technology from the 1950s, and the power industry's stagnant efficiency means that two-thirds of the fuel burned to generate electricity is lost. Unreliable supplies — the result of blackouts or temporary surges — annually cost consumers $ 150 billion, adding a 40-percent surcharge to the cost of power. Electricity generators also are the nation's largest polluters, spewing tons of mercury, sulfur dioxide, carbon dioxide and other contaminants into America's air and waters.
Recycling this enormous energy waste enables RED to tackle a major challenge of our time — global warming — while reducing costs for our customers and creating profits for our investors. Greenhouse gas reduction and profitability are mutually sacrosanct to our business.
Industrial waste energy recycling offers enormous potential. According to a report for the Environmental Protection Agency, capturing that waste energy would provide 19 percent of U.S. total electricity, as well as allow the country to meet greenhouse-gas-reduction goals outlined in the Kyoto agreement.
RED typically will cut the energy bills of its industrial partners by at least 20 percent. It will offer to purchase the energy plants of its partners at book value for single digit 20-year mortgage type payments, plus a negotiated share of all energy savings. RED will take the risks, and the payment obligations will not appear on the host's balance sheets. RED will fund its project purchases and development with pure equity, removing most the transaction costs associated with debt financing.
RED managers — led by Tom and Sean Casten — have developed more than 300 local generation projects, involving more than $ 2.0 billion of capital. They provide a unique and unparalleled mix of technical, legal and financial skills.
Recycled Energy Development, LLC
740 Quail Ridge Drive
Westmont, IL 60559
###
©Copyright 1997-
, Vocus PRW Holdings, LLC.
Vocus, PRWeb, and Publicity Wire are trademarks or registered trademarks of Vocus, Inc. or Vocus PRW Holdings, LLC.