Navy Selects Global Water Group's 'Green' System for Waste Water Treatment and Effluent Recycling
Dallas, TX (PRWEB) March 15, 2010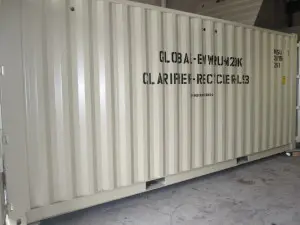 A transportable Waste Water Treatment and Effluent Recycling Unit, made by Global Water Group, Inc. (Dallas, TX, USA), has been selected by the U.S. Navy to support its San Diego-based Explosive Ordnance Disposal (EOD) operations.
"This is the 'greenest' most environmentally correct waste water treatment system ever made and the prototype for future military systems," said Alan M. Weiss, president/CEO of Global Water Group. "When deployed, the system can be operational within hours. When the encampment is ready to break, the system takes 24 hours to flush through. When removed, there are zero environmental problems."
The system, housed in a transportable 8-ft container, has been deployed on maneuvers several times with perfect 'green' results and no extra expenses or extra labor incurred for waste disposal, Weiss said. Until now, such systems have been used only by offshore oil and gas rigs. A second-phase system in an ISO Bicon container is currently in production.
The Navy plans to use the recycled water for maintenance and toilets, but the recycled water will be comparable in purity and taste to the cleanest natural spring water and will exceed WHO and EPA potable drinking standards (including NSF-Standard 53), Weiss said.
Recycling of waste water will become one of the most important processes in water conservation, Weiss noted. Singapore, for example, recycles the effluent from its conventional waste water process and sells the recycled waste water as bottled water. Their "NeWater" brand, which meets world standards, is a top selling bottled water product in Singapore. Global's water purification process produces quality water far in excess of world standards, Weiss said.
"Global Water's system is modular and easily scalable. It can be the prototype for future municipal systems, as well," said Weiss.
Global uses a type of aerobic biological treatment process called, "extended aeration activated sludge" — a super-charged environment to promote digestion of the sewage by bacteria. It was created by oil and gas industry biologists more than 30 years ago. Global Water Group's proprietary waste water treatment unit, however, cuts the processing time in half, and unlike conventional treatment plants, Global's process generates virtually no sludge.
The effluent from the Global Water waste water treatment unit flows into the recycling component, which removes remaining suspended solids down to 5-microns and recycles them back to the digestive process of the waste water treatment. All remaining effluent then is processed through Global's proprietary LS3 water purification component where all parasites are removed; hazardous chemicals are removed; and finally, through ultra-violet light, all the remaining bacteria (e-coli) and viruses are killed or neutralized.
This process produces highly purified water available for any potable or non-potable use. The compact, self-contained systems also require minimal maintenance and technical support, Weiss said.
Global also delivered its mobile, self-contained 300 GPH desalination systems to the EOD. These desalination systems, including the power generator, are housed in a 10-ft container.
The phase-two 2,500 GPD waste water-recycling system will also be housed in a 10-ft container. When coupled with the desalination container, the unit becomes a mobile 20-foot total water system for an encampment of 100 to 200 personnel. The combined units can be rolled on and off a C-130 aircraft.
About Global Water Group
Dallas-based Global Water Group, Inc. manufactures state-of-the-art water purification, waste water treatment, and waste water effluent recycling equipment for the military, disaster relief, offshore oil and gas platforms, municipalities, and home use. Established in 1990, Global Water has specialized in making mobile, self-contained and fixed-base water purification and waste water recycling systems. With its unique, scalable modular design concept, Global Water's municipal systems can be deployed in less time, cost less to operate and require less capital outlay than conventional water processing systems. Global Water's systems have been deployed to five continents and more than 30 countries. Visit http://www.globalwater.com and http://www.bestdrinkingwater.com for more information.
###
©Copyright 1997-
, Vocus PRW Holdings, LLC.
Vocus, PRWeb, and Publicity Wire are trademarks or registered trademarks of Vocus, Inc. or Vocus PRW Holdings, LLC.