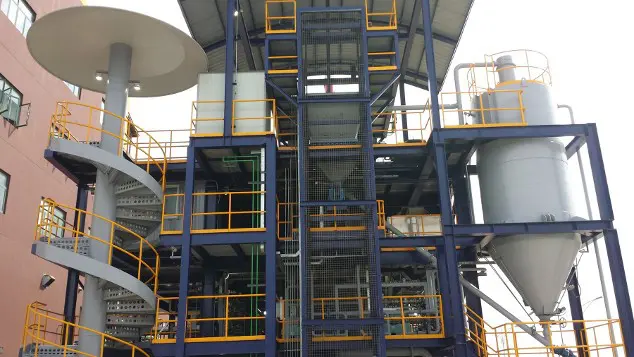 Canadian plasma gasification technology supplier, Alter NRG (TSX: NRG & OTCQX: ANRGF) has commissioned the Westinghouse Plasma torch systems at an incinerator ash vitrification facility constructed by GTS Energy in Shanghai, China.
Alter NRG said that following the installation, it has now completed work on commissioning the system at the facility, which is co-located with Shanghai Environmental, a subsidiary of large, state-owned enterprise Shanghai Chengtou Holding Co. Ltd., which operates businesses that transport domestic wastes to landfills and waste to energy incinerators.
According to Dean Mao, deputy general Manager of GTS Energy, in China as in many other countries, incinerator ash is considered a hazardous waste which is a growing, expensive problem that requires special treatment which can cost up to $300 per tonne.
However, the Westinghouse Plasma Technology supplied by Alter NRG is claimed to be able to treat the ash, turning the majority of it into a benign glass-like slag that can be used in other industries such as construction.
In addition, Alter NRG said that the plasma gasifier can increase incinerator facility revenues by taking other high tipping fee feedstocks such as medical and hazardous waste as well as creating additional syngas or steam which increases the electrical output.
"The success of the torch commissioning was a very important, key step in the success of the project," explained Mao.
"The project has generated significant interest in China and we believe the project will establish a new way for solid waste treatment in China," he added.
Walter Howard, CEO of Alter NRG explained that "this is a significant reference Facility that opens up immediate market opportunities in China and rest of the world".
"With the increasing regulations and scrutiny on incineration emissions, we believe that this will be a significant market opportunity as we provide an economical solution to the existing 3,000 or more incinerators worldwide," he added.
Read More
50 MW Plasma Gasification Waste to Energy Technology for Second Air Products Plant 
Alter NRG, which specialises in the use of plasma gasification technology to recovery energy from waste, has signed an agreement to supply a $21 million Westinghouse Plasma Gasification Solution to Air Products' secondwaste to energy facility in Tees Valley, North East England.
50 MW Plasma Gasification Plant Boosts Revenue at Alter NRG
Alter NRG, a specialist in the use of plasma gasification to treat wastes, has reported an increase in revenues for the first quarter of 217% over the same period last year.
VIDEO Dong uses Enzyes to Process Mixed MSW for Biogas Production & Material Recycling
A new technology that uses enzymes to treat mixed MSW and recover the organic fraction for biogas production, has been unveiled by Dong Energy.