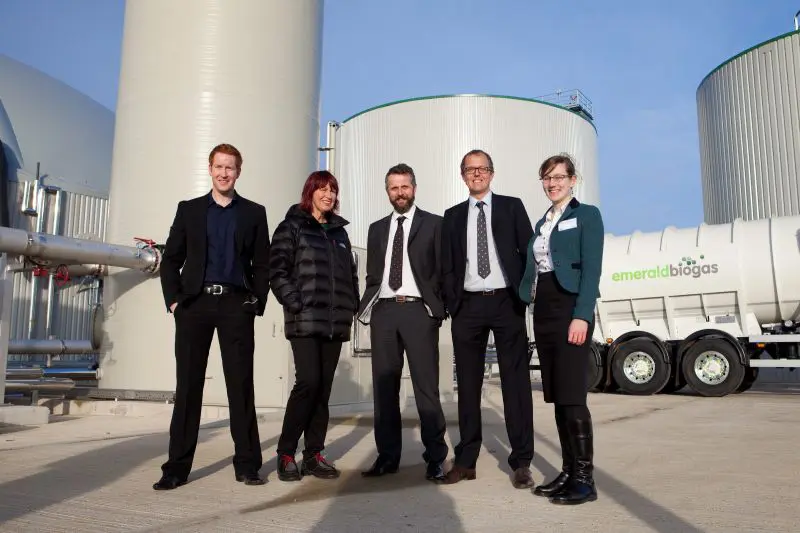 Bainbridge, Director, Emerald Biogas, Janet Street Porter, Adam Warren, Director, Emerald Biogas, Antony Warren, Director, Emerald Biogas and Jayne Winter,RDPE Area Manager (North East) at the Emerald Biogas AD facility in Newton Aycliffe.
The north east's first commercial food waste anaerobic digestion (AD) plant, which will generate enough energy to power 2,000 homes every year, has officially opened in County Durham.
Operated by Emerald Biogas, the £8m state-of-the-art AD facility based at Newton Aycliffe Industrial Estate, will serve the north east's need to recycle food waste and create renewable energy, processing 50,000 tonnes of leftover food from businesses across the region, including Vale of Mowbray, Greencore and SK Chilled Foods.
At a VIP launch event, hosted by renowned broadcaster and writer Janet Street-Porter, over 100 invited guests, from local authorities and national businesses, to schools and the mayors of Darlington and Great Aycliffe celebrated the launch of the biogas facility.
Addressing the impact of the food waste issue in her keynote speech, Janet said: "This facility will bring a range of benefits to the north east community, including reducing the need to send food waste to landfill, and the creation of green energy and fertiliser. In other regions across the country, local authorities already collect food waste from residential areas, which is food for thought indeed."
"I am passionate about protecting our countryside and feel we should be doing even more to look after our local community, and as part of this strategy, supporting local businesses and jobs."
Waste Minister Dan Rogerson said: "Dealing with waste properly not only benefits the environment but will also help create jobs and build a stronger economy. Our £2million grant has helped develop this plant which will treat food waste and recycle valuable nutrients back to the land."
As part of the official proceedings, guests were treated to a two-course lunch, with food sourced from local suppliers. Then were able to see the AD process in action during a tour of the facility, where the leftovers from the event were processed, generating both energy and fertiliser.
Adam Warren, Director, Emerald Biogas, said: "The opening of the food waste plant builds on the success and experience of the team, which was created by the partnership of directors from regional businesses John Warren ABP and Agricore.
"Through this investment we will contribute a continued source of renewable energy to local businesses, while also providing a sustainable solution for dealing with food waste which traditionally goes to landfill.
"Food waste is a major concern for the north east, where 800,000 tonnes is generated every year and as part of today's celebratory launch I am delighted that we as a company are playing a valuable role and providing a long term regional solution to this national problem.
"As part of our commitment to reducing food waste to landfill and creating green energy, we also launched a campaign for schools across the region and are inviting pupils to become 'waste warriors', with school and site visits, educational activities and a poster competition as part of the initiative."
The facility at Emerald Biogas has been designed to recycle food waste – leftover and unsold products – generated by commercial organisations including schools, food manufacturing companies, retailers and leisure outlets amongst others.
Once the waste is collected Emerald Biogas it is recycled using the very latest anaerobic digestion technology to create valuable new commodities such as renewable energy and fertiliser for use on local agricultural land. Working with the private and public sector it is committed to recycling and reusing the region's food waste to generate electricity, heat and bio-fertilisers.
Formed in 2009, Emerald Biogas is owned by three partners with a wealth of experience in agriculture and recycling. Antony and Adam Warren are the owners of long established food and animal by products recycling business, John Warren ABP. Together with Ian Bainbridge's diverse farming, land and resource management company, Agricore, they will provide the region with a beneficial sustainable resource.
John Warren ABP manages the collection for Emerald Biogas. With over three generations of waste management experience and family owned, the company offers a food disposal service at Hamsterley and has now progressed into the next generation of food processing.
The bio-fertiliser derived from the waste treatment process is supplied to land owners within a ten-mile radius of the plant through Agricore, which delivers a diverse range of agricultural services and products to the farming community.
The funding for the project was made available through the Rural Development Programme for England, which is jointly funded by Defra and the European Union.
Funding was also secured through HSBC. HSBC's Tyne Tees Commercial Centre supported the Emerald Biogas project via a £3.6 million funding package. HSBC Tyne Tees Area Commercial Director Pat Dellow, said: "To see the AD facility operational is fantastic and we are pleased to have been able to support this project via a funding package. This is the only facility of its kind in the North East and it will play such an important role delivering a sustainable energy source to the area.We were impressed by the management team, the innovative nature of the project and the company's plans for the future."
For more information about Emerald Biogas at www.emeraldbiogas.com