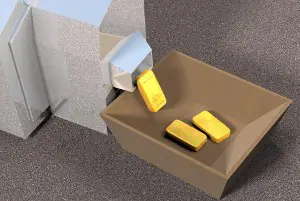 A spoof video purporting to herald the launch of a waste digesting 'Disertator', which uses components made from meteorites to transform waste into energy, petroleum and gold, was among this year's April Fools internet pranks.
A press release accompanying the 'launch' of the extraordinary machine, as well as the spoof video, can be seen below.
April 1, 2013, Milpitas, California. Power Knot today announces the availability of the Disertater, a new machine that digests all types of waste. With the new machine, a business can stop sending its trash to the landfill and instead can capitalize on the output from the Disertater. Along with the release of the new product, Power Knot is releasing its new web site which provides more ways of connecting with customers, including support for mobile phones.
With its LFC, Power Knot is the market leader in machines that can digest waste food. The new machine can digest all kinds of waste, including paper, plastics, glass, and metals, as well as waste food. The user puts all waste, unsorted, into the door at the top of the machine. As with the LFC, waste food is converted to water. But the Disertater digests the various types of waste and sends the resultant output through one of several exit portals. Glass is automatically converted to sand, plastics are automatically converted to petroleum, and metals are converted to gold and output periodically as gold bars.
"The Disertater has been under development for several years," said Iain Milnes, President of Power Knot. "We have had to cover it up whenever we have had visitors to our office and I am pleased that it is now released. We are confident the Disertater will greatly improve the environment and there will be much demand for it."
The machine uses Newton's principle of Disertation to separate the various types of waste and uses a process of diabolic entropy with Goldberg correction to direct the waste to its various outputs. The machine uses no power as it operates solely from the energy generated by the digestion process. In fact, excess power generated by the Disertater can be fed back to the power grid, further benefiting the environment.
The Disertater has been in trial for several months at the Hymont Excellency Hotel in Sunnyvale, Calif. "The machine has really benefited us," said May B. Goode, Director of Operations. "We have been able to completely eliminate the trash we send to the landfill and now we make use of all the output from the Disertater. We are sure the machine will pay for itself very soon."
Along with the new product, Power Knot is releasing its new web site. "We have given our web site a fresh look," said KareyAnne Hill-Peterson, Marketing Coordinator at Power Knot. "Customers can more easily find the information about us and can now connect with us more easily, from mobile phones or through social media." The Disertater is featured prominently on the home page of the new web site.
Pricing and Availability
Like the LFC, the Disertater is available in six different sizes. The smallest is the DIS-50 (from 100 lb per day) with the largest being the DIS-500 (up to 2000 lb per day). These vary in price from $16,000,000 to $54,000,000 and are available for order now.
* * *
About Power Knot LLC
Power Knot provides safe and economically sound solutions for commercial, industrial, and military customers globally seeking to reduce their carbon footprint. The Liquid Food Composter (LFC) allows customers to reduce the expense, inconvenience, and mess of disposing of waste food that would otherwise be hauled to a landfill. Models are available that process from 100 lb per day to 2000 lb per day of waste food. Our technologies are proven, available today, have been in reliable use for many years, and offer a payback period typically of less than four years. Power Knot has its headquarters in Milpitas California. For more information, access http://www.powerknot.com.

Video
Source: Waste Management World
Read More
VIDEO: Waste to Energy Plant Helps Hawaii Tackle Marine Waste
A recent CNN news report has highlighted how fishermen in Hawaii are collecting discarded fishing nets and other waste items found in the Pacific as part of the Nets-to-Energy program on Hawaii.
Three 1000 tpd Waste to Energy Plants Sought in Mumbai, India
International companies have been invited to submit proposals for three 1000 tonne per day waste to energy facilities in Mumbai.
Viridor's 30 MW Waste to Energy plant to Supply Heat to Cardiff
The 30MW waste to energy facility being built by Viridor at Trident Park in Cardiff is to supply an additional 20 MW of heat to a district heating system.