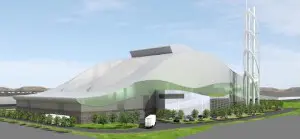 The 30MW waste to energy facility being built by Viridor at Trident Park in Cardiff is to supply an additional 20 MW of heat to a district heating system.
According to Viridor – a part of the Pennon Group (LSE: PNN) the combined heat and power facility will be the first of its type in Wales.
Chris Jonas, Viridor's head of strategic development explained that the company would be working in partnership with E.ON and Cardiff Council to realize the project which would enable buildings in central Cardiff areas to receive green energy that can be used for heating or cooling.
Once complete the facility will treat up to 350,000 tonnes of waste each year.
The Trident Park facility will take approximately three years to build in total and is scheduled to start treating waste from summer 2015.
Source: Waste Management World
Read More
Recycling and Waste to Energy Project Evaluated in Cleveland
Gershman, Brickner & Bratton is evaluating development options for the Cleveland Recycling and Energy Generation Center.
31 MW Waste Gasification and Biogas Project Funded in Hull
A project in Hull, UK which will feature a 25 MW waste gasification plant as well as a 3 MW anaerobic digestion biogas to grid injection facility has been awarded a £19.9 million grant from the European Regional Development Fund (ERDF).
ZeaChem Biorefinery Begins Production of Ethanol in Oregon
Biorefinery developer, ZeaChem has begun production of commercial grade cellulosic chemicals and ethanol at its 250,000 gallons per year biorefinery in Boardman, Oregon.