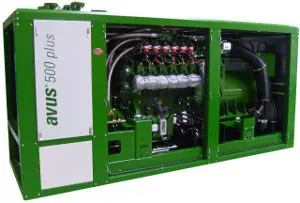 German combined heat and power (CHP) biogas powered generator specialist, 2G Energy has launched its newly developed avus 500 plus, with an electrical output of 499 kW and an efficiency of 41.5% on the UK market.
According to the company the unit is a water cooled, turbo charged, 12 cylinder, spark ignition gas engine is an in-house development of 2G Drives, which is designed for biogas and natural gas applications, and can also to be run on synthetic gas containing hydrogen.
Frank Grewe managing director of the company's development subsidiary, 2G Drives, explained that the new unit has benefited from the experience gained developing the 250 kW agenitor series which has been incorporated into the avus 500 plus.
"This concerns such things as the use of steel pistons and the newly designed cylinder head, which takes advantage of the benefits of 4-valve technology," he said.
Grewe added that the micro-processor controlled ignition system ensures that the ignition timing and ignition energy are optimally adjusted to the gas quality.
According to 2G Energy the new units has been designed for a market which is increasingly demanding extreme compactness along with greater output.
"All pumps, heat exchangers and other peripheral units are integrated so that the reduced outside dimensions makes it easier to install into an existing building infrastructure," explained Grewe.
"It's also important for the avus 500 plus to have a sound insulation capsule which keeps the noise at a one-metre distance to a level of under 65 dB," he continued.
Additionally, the company says that it has focused on developing the software and control unit, which have also been specifically modified to make controlling the plant easier and more efficient.
For instance, the company highlighted the larger display screen which improves viewing, as well as advanced diagnostic capabilities and a proprietary control and regulatory unit that enables operation based on heating as well as power requirements.
The company added that the unit can also be linked directly to a virtual power plant, since the control unit already has the necessary communication modules and software solutions.
2-G Energy said that the avus 500 plus is suited to applications such as landfill gas to energy facilities and biogas plants such as food waste to wastewater treatment plants.
Read More
Farm & Food Waste to Biogas Anaerobic Digester Underway in Indiana
Monticello, Indiana based Waste No Energy, an anaerobic digestion biogas facility developer owned by RAKR Farms, is developing a facility that will process mixed farm and food waste.
30 MW Waste to Energy Facility Secures £105m Government Funding in Wales
The 30 MW Trident Park waste to energy plant currently under construction in Cardiff has secured 25 years of funding from the Welsh Government to treat residual municipal waste.
INEOS Bio Begins Commercial Production of Biofuel from Wastes in Florida
INEOS Bio and New Planet Energy are to begin commercial scale shipments of bioethanol produced at its Indian River Bioenergy Center which processes municipal waste at Vero Beach in Florida.