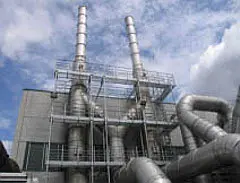 Denver, Colorado based waste gasification specialist, Vista International Technologies, (OTCBB: VVIT), has begun construction on its pilot waste to energy project.
The company said that the project will utilise the next generation of its waste gasification technology, the MFG-8 Thermal Gasifier.
According to VVIT the Thermal Gasifier processes fuel converted from feedstock such as waste, biomass, tyres and virtually any solid carbon based material into useful energy without harming the environment.
Gasification and partial oxidation take place in separate gasification and oxidation areas of a single chamber, and final complete combustion takes place in a fire tube before entering the boiler.
The company said that the development of its pilot facility is the beginning of a multiple phase plan by the host company to reduce the amount of waste it landfills.
Upon successful completion of this project, VVIT said that the second phase of the plan will involve the installation of a larger, permanent waste to energy installation at the host company's site.
VVIT added that the project is being fully funded by the host company.
"The beginning of construction on our initial third generation unit represents a giant step forward for the company," commented CEO Tim Ruddy.
Source: Waste Management World
Read More
31 MW Waste Gasification and Biogas Project Funded in Hull
A project in Hull, UK which will feature a 25 MW waste gasification plant as well as a 3 MW anaerobic digestion biogas to grid injection facility has been awarded a £19.9 million EU grant.
Waste to Energy Pyrolysis System Wins Award for Aston University
An innovative bioenergy technology, which transforms multiple waste products into heat and power has won 'Best Technological Breakthrough' at the national Climate Week Awards.
£240 Million MBT and Waste to Energy Plant Planned for Belfast
A proposed £240 million Mechanical Biological Treatment facility featuring a 14 MW waste to energy plant in Belfast could help 11 councils in Northern Ireland meet European landfill diversion targets.