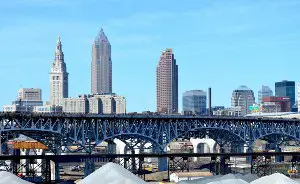 Fairfax , Virginia based solid waste management consulting firm, Gershman, Brickner & Bratton is continuing its evaluation of development options for the Cleveland Recycling and Energy Generation (CREG) Center.
The consultancy said that it was hired by the City of Cleveland to review options for the CREG Center project, which seeks to better manage the City's municipal solid waste, with the potential for using waste as a source for locally producedenergy.
"Cleveland has been investigating the use of municipal solid waste (MSW) for the production of energy since at least 2007," explained Ken Silliman, chief of staff for Mayor Frank Jackson.
"Our goals, in part, are to reduce Cleveland's dependence on fossil fuels, develop local energy generation capacity, and recover marketable by-products, such as recyclables, from MSW," he continued.
According to the chief of staff, the GBB Project Team will assist in developing a successful project in process which he anticipates resulting in a short-listing of qualified companies and a Request for Proposals by the fall of this year.
GBB explained that in September 2011, the Division of Cleveland Public Power (CPP) began a procurement process for the development of the project and initially issued a Request for Information and Qualifications (RFIQ).
This was followed later by a Supplemental Request for Information and Qualification (SRIQ), which targeted a wide variety of waste conversion and management approaches, including thermal conversion, pyrolysis, gasification, recycling, and fuel production, as well as consulting and financial firms to assist in project development.
GBB said that its team will review, analyse, and evaluate the responses received through the RFIQ and SRIQ; evaluate gasification to energy development efforts; evaluate the co-generation opportunity; and provide a shortlist and comparison of the three best overall options, along with a life cycle analysis of each, and; make overall recommendations on how to develop the CREG Center.
Municipal collections and disposal
The City of Cleveland Department of Public Works operates the Division of Waste Collection and Disposal (DWC), which GBB said provides weekly collection of waste from 155,000 homes, the City's West Side Market, Fire and Police Stations, the Justice Center, City Hall and other City buildings and public areas.
The DWC also operates a Transfer Station, where all MSW is brought before being sent to landfills.
According to the consultants, the City has an Advance Energy Portfolio Standard (AEPS) which requires the CPP to diversify its power supply. The AEPS requires the CPP to purchase at least 15% of its base load power from advanced and renewable sources by 2015, 20% by 2020, and 25% by 2025.
The CPP has entered agreements for several renewable and advance energy projects including hydropower, solar, and waste to energy anaerobic digestion technology projects and is expected to meet the 2015 milestone.
GBB said that it would be joined on the project by five firms with complementary backgrounds that will bring to their local understanding and/or in-depth experience in keys areas of expertise the table.
Source: Waste Management World
Read More
Video: ZeaChem Biorefinery Begins Production of Ethanol in Oregon
Biorefinery developer, ZeaChem has begun production of commercial grade cellulosic chemicals and ethanol at its 250,000 gallons per year biorefinery in Boardman, Oregon.
Waste to Energy Pyrolysis System Wins Award for Aston University
An innovative bioenergy technology, which transforms multiple waste products into heat and power has won 'Best Technological Breakthrough' at the national Climate Week Awards, held recently at the House of Commons, London.
Million Tonne Abu Dhabi Waste to Energy Project Seeks Bidders
Qualifications are being invited for the bidding process to develop a 1 million tonne per year, 100 MW waste to energy facility in Abu Dhabi.