The ENCORE Transformation System is the "best in class" waste-to-energy technology. It meets all international environmental requirements and has set the bar for the toughest standards in the world. It is a highly efficient pyrolysis process for removing the valuable parts of waste and converting it to syngas in a patented all-in-one design. Eliminating many flaws that other systems have struggled with including batch loading, multi-station processing and dangerous single reactor, high-heat chambers, the ENCORE simply is the marriage of great scientific understanding with practical modular engineering.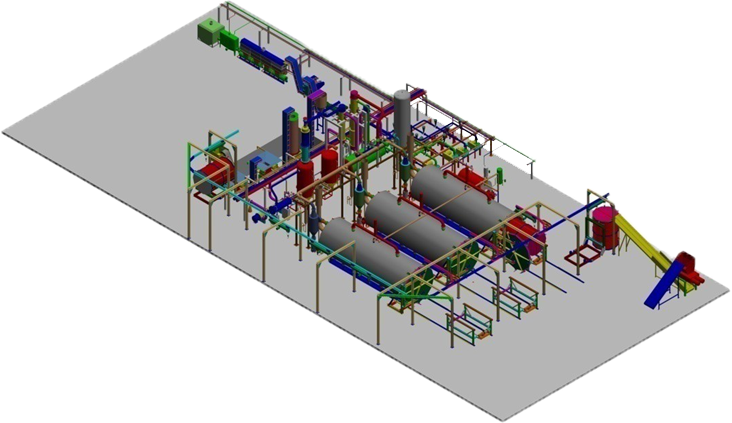 The System is a significantly more efficient and effective solution than incineration and landfill, negating the reason to burn and bury ever again. This system delivers both long term cost savings as well as generating revenue through the creation of electricity or synthetic fuel while surpassing all US, EU and International Standards and targets for CO2 emissions.
The reason the ENCORE Transformation System has shown such high international interest is that it is designed to do better than any other system on the market. Main benefits are:
Almost half of the cost of grate systems
Higher efficiency and better engineering
Lower maintenance costs mean more uptime
24/7 operation and power production
Lowest emissions in the world
All waste types can be processed: MSW, hazardous industrial and medical waste, sludge, tires, biomass etc.
Less sorting of waste adds fewer costs
Versatile system: electricity or diesel, jet fuel, wax or heating oil
Minimum oxidation of the waste
No production of pollutants
High level of gas production
High level of calorific values for gas
Gas can be used in a Genset
Clean gas production
Gas can be used to make synfuel
Usual composition of synfuel: 50% of diesel, 20% of jet fuel, 30% of wax
High quality of diesel fuel is approved by the US Navy certificate
Waste to Energy International OÜ (WTEI) has joint venture and dealership agreement with the producer of the ENCORE technology – well-reputed American company. Not focusing only on the distribution of the equipment, WTEI provides the full cycle of construction waste-to-energy facilities:
Creation of the feasibility study
Selection and supplying of the peripheral equipment
Calculation of the Financial Model
Taking responsibility on the turn-key-construction
Sourcing the investments
More detailed our scope of activity is described on the Development Process page. Short description of constructed plants can be found in the Advanced Pyrolysis Plants section.
Download Teaser
Below is video that describes real implementation of ENCORE technology to convert waste to electricity.