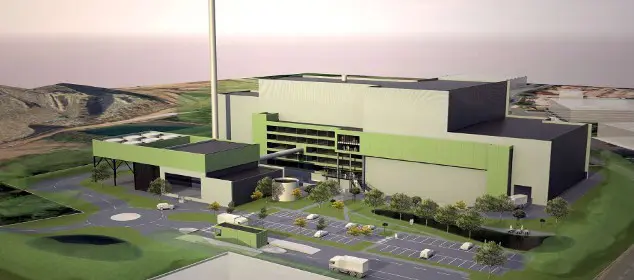 Funding proposals for the planned 200,000 tonne per year EnviRecover waste to energy facility in has been approved by Worcestershire County Council.
The plan was approved at a recent Council meeting by a vote of 42 to 11 in favour of approving the funding arrangements for the scheme, which is expected to divert 200,000 tonnes of waste from landfill sites each year and generate some 15.5 MW.
Planning consent for the plant was given by the Secretary of State, Eric Pickles back in July 2012 and the council said that it now expects construction to start this year with the plant fully operational in 2017. No further Central Government approval is now required.
In December last year a variation to the existing 25 year Waste Management Services Contract which Worcestershire County Council and Herefordshire Council have with Mercia Waste Management was approved by Worcestershire's cabinet.
Worcestershire County Council explained that the contract includes:
Material Reclamation Facilities
Waste Transfer Stations
Household Waste Sites (now Household Recycling Centres)
Operations and Management of Hill and Moor Landfill
Composting facilities.
Looking to the future
According to Worcestershire County Council, by 2023/24 it is forecast that 222,518 tonnes of residual waste will be produced in Worcestershire and Herefordshire.
In addition to rising landfill taxes, the council said that the landfill site itself is forecast to be full by 2023/24 and the significant risk of additional costs in securing an out of county site for residual waste disposal means doing nothing is not an option both in an environmental and a financial sense.
While it has been claimed that costs for the waste to energy facility alone would cost £1.65 billion or £38million a year, the council is adamant that that is not the case, and that the facility will in fact cost just £700 million over its expected lifetime up to 2042.
Councillor Anthony Blagg, Worcestershire County Council cabinet member for environment welcomed the decision by the Full Council to approve the funding plan.
"Years of work has gone into addressing this issue and not pursuing this option, which is a proven piece of technology identified as the best solution after considering a number of alternatives, would cost the residents of Worcestershire and Herefordshire £128million as things stand today," commented Blagg.
"This decision changes nothing when it comes to the commitment we have to prevent waste being produced in the first place, and then reducing the amounts sent to landfill through recycling or composting," he continued.
"The energy from waste facility is not seen as a 'one size, fits all' approach or an alternative to recycling. It will in fact complement the many improvements made when it comes to recycling over the last few years, which include EnviroSort and the Household Recycling sites," concluded Blagg.
Read More
Waste Plastic to Energy Company Secures Funding for First Facility in Ohio
Cleveland, Ohio based Vadxx Energy has closed on financing for its first commercial-scale, plastic waste to energy facility.
$100m Pig Farm Waste to Biogas AD Plant for Northern Missouri
Roeslein Alternative Energy is to jointly to develop a $100 million project to produce biogas from farm waste using anaerobic digestion in northern Missouri.
On Farm Anaerobic Digestion Biogas Plants Backed by New York State
New York State is to make nearly $21 million available to help dairy farmers turn agricultural waste to energy by generating biogas through anaerobic digestion.