Global Water Group Wastewater Treatment and Recycling System Selected for Singapore Project; System Produces Highest Quality Drinking Water, but No Sludge
Dallas, TX (PRWEB) November 2, 2009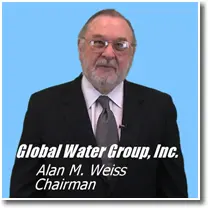 An advanced system for wastewater processing and wastewater-effluent-recycling, made by Global Water Group, Inc. (Dallas, TX, USA), has been selected for the new ferry terminal on a man-made island adjacent to Singapore.
Located on the man-made island of Pulau Seringat, southeast of the island of Sentosa in the Singapore Strait, the development ultimately is planned to accommodate 1200 to 1500 people, including permanent residents and guests at two planned luxury hotels.
The Global Water system was delivered in March and put through a program of testing by the developers and Singapore officials, said Alan M. Weiss, president/CEO of Global Water Group. The system is expected to go online officially this month, he said.
The ferry terminal system will have a capacity of handling 2,500 gallons per day of wastewater treatment and effluent recycling, Weiss said. The recycled water will be comparable in purity and taste to the cleanest natural spring water, he said.
Weiss anticipates that the modular system ultimately will be expanded to serve the entire development. He said the Singapore project will be the first system of its kind for a commercial and residential development project. Until now, such systems have been used only by the US Military Special Forces, and by offshore oil and gas rigs.
"This is the 'greenest' wastewater treatment system ever made and the prototype for future municipal systems," said Weiss.
Global Water Group's proprietary wastewater treatment unit uses a type of aerobic biological treatment process called, "extended aeration activated sludge" – a super-charged environment to promote digestion of the sewage by bacteria. The process results in virtually no sludge accumulation, in contrast to conventional wastewater treatment plants.
The effluent from the Global Water wastewater treatment unit flows into the recycling component, which removes remaining suspended solids down to 5-microns and recycles them back to the digestive process of the wastewater treatment. All remaining effluent then is processed through Global's proprietary LS3 water purification component where all parasites are removed; hazardous chemicals are removed; and finally, through ultra-violet light all the remaining bacteria (e-coli) and viruses are killed or neutralized. This process produces highly purified water available for any potable or non-potable use.
The relatively compact, self-contained systems also require minimal maintenance and technical support, Weiss said.
About Global Water Group
Dallas-based Global Water Group, Inc. manufactures state-of-the-art water purification, wastewater treatment, and wastewater effluent recycling equipment for the military, disaster relief, offshore oil and gas platforms, municipalities, and home use. Established in 1990, Global Water has specialized in making mobile, self-contained and fixed-base water purification and wastewater recycling systems. With its unique, scalable modular design concept, Global Water's municipal systems can be deployed in less time, cost less to operate and require less capital outlay than conventional water processing systems. Global Water's systems have been deployed to five continents and more than 30 countries. Visit http://www.globalwater.com and http://www.bestdrinkingwater.com for more information.
###
©Copyright 1997-
, Vocus PRW Holdings, LLC.
Vocus, PRWeb, and Publicity Wire are trademarks or registered trademarks of Vocus, Inc. or Vocus PRW Holdings, LLC.