Green Energy Resources, Inc. Encourages Recycling of Wood Waste Following Hurricane Charley, to Offset Damage Costs
HUNTINGTON, NY (PRWEB) August 20, 2004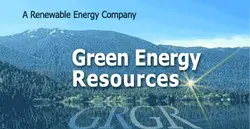 Green Energy Resources, Inc. (OTC.PK: NYIL) http://www.nyill.com/pages/1/index.htm a bio-energy supply company that sells biomass wood products reports it has called upon the Florida Governors office, FEMA (Federal Emergency Management Agency) SEMA (State Emergency Management Agencies) and State Secretary's Offices, to process Hurricane Charley tree damage and fallen branches into woodchip form. The traditional disposal methods are to dump and burn the wood waste. Hurricane Charley will cost Florida at least $ 15 billion, according to preliminary damage reports. Chipping, rather than dumping, turns the storm-damaged wood into a marketable commodity.
"Proceeds of the product sales can be recouped by FLORIDA, the counties and towns and directly benefit taxpayers. The woodchips can be used as a renewable energy resource ("GREEN ENERGY") and can benefit the state economy, in the form of export shipments. Green Energy Resources has pledged to purchase at least 1 million tons of the woodchips, returning millions of dollars back to local communities" stated Green Energy C.E.O. Joseph Murray.
Storm damaged wood, as a biomasse commodity, conforms with the strict Standards of the UTCS environmental certification system, and is compliant with the Kyoto protocol guidelines. Green Energy Resources is a national and international supplier and distributor of wood fiber fuels and has established a woodchip commodity standard. Green Energy Resources only utilizes 100% environmentally certified wood. The wood product recovered from the storms guarantees power plant operators the product burned in co-firing, or direct burn power plants, are eligible to receive the "GREEN CERTIFICATES" necessary for renewable energy criteria.
Except for historical information contained herein, the statements in this release are forward-looking statements that are made pursuant to the safe harbor provision of the Private Securities Litigation Reform Act of 1995. Forward-looking statements involve known and unknown risks and uncertainties that may cause the companies' actual results in future periods to differ materially from forecasted results. Such risks and uncertainties include, but are not limited to, market conditions, competitive factors, the ability to successfully complete additional financings and other risks.
SOURCE: Green Energy Resources
For full details, click here: http://www.investorideas.com/CO/NYIL/NewsReleases.asp
Disclaimer: http://www.investorideas.com/about/disclaimer
Green Energy Resources is a featured company on: http://www.RenewableEnergyStocks.com and Environmental Stocks – http://www.investorideas.com/Enviro_Stocks/Default.asp
Contacts:
Green Energy Resources
Joseph Murray, 631-421-5747
http://www.InvestorIdeas.com
©Copyright 1997-
, Vocus PRW Holdings, LLC.
Vocus, PRWeb, and Publicity Wire are trademarks or registered trademarks of Vocus, Inc. or Vocus PRW Holdings, LLC.