LONDON: Japan has just opened one of the world's largest floating solar power plants, signalling increasing adoption of the efficient and innovative technology in the country, which is due partly to lack of space on land.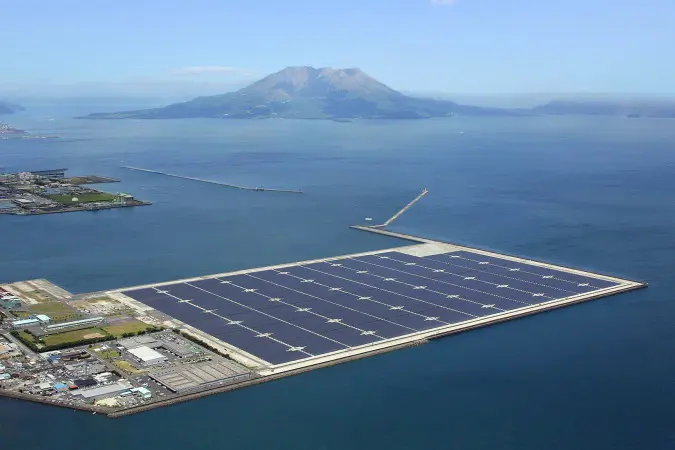 Image: Kagoshima Nanasujima mega solar power plant, Kyocera Corporation
As highlighted in a report released this week by The Climate Group, regions with more land space, specifically the UAE with its huge solar resources, are primed to benefit from the fast-growing low carbon economy.
The giant plant in Japan was inaugurated last March but has only just opened, as announced by Kyocera and Ciel et Terre International, two manufacturers that are heavily investing in this technology. The system is made up of two solar parks, at Nishihira Pond and Higashihira Pond in Kato City in Japan's Hyogo Prefecture, with a capacity of 1.7 megawatts (MW) and 1.2 MW respectively.
CLEAN TECHNOLOGY
Solar photovoltaic (PV) technology is becoming more wide-spread in Japan, driven in part by the closure of the country's fleet of nuclear plants following the Fukushima disaster – even if there are some concerns about the possibility the country could soon reopen them.
As the graph below shows, total solar PV capacity has moved from just 19 MW in 1992 to 13,532 MW in 2013 –more than double the previous year.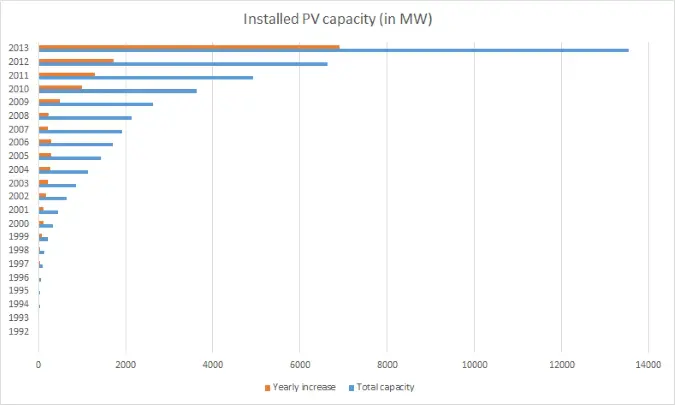 Image: The Climate Group, data from EPIA report "Global Market Outlook for Photovoltaics 2014-2018" and IEA report "National Survey Report of PV Power Applications in Japan 2012"
This huge increase marked Japan as the world's second biggest solar PV market in 2013, following China with 10.95 GW. By comparison, in the same year the US connected 4.8 GW to the grid from PV power plants. Japan also represented 10% of total global PV capacity, compared to China's 13%.
The trend continued in Japan, according to a more recent IEA report, with around 9.7 GW installed and connected to the grid in 2014. China retained the first position with 10.6 GW; overall, the global solar PV market hit 177 GW last year – a tenfold increase from 2008.

Video courtesy of Kyocera Corporation
Japan's success in solar technology was also boosted by the implementation of new feed-in tariff policies, says EPIA. Last year, the Ministry of Economy, Trade and Industry estimated an increase in the amount of electricity through this system of 32 to 35 million kilowatt.
The Ministry also committed to promoting technological development and the use of heat from renewable energy, aiming to make the ratio of renewables in primary energy supply 10% by 2020.
FLOATING SOLAR
However, with a landmass slightly smaller than California and a population density closer to India, this expansion in PV collides with the lack of space. Thankfully, Japan is surrounded by sea and has many water reservoirs to cater for its seasonal variation in rainfall levels, so is experimenting more frequently with floating PV systems.
Not only is floating solar more convenient, it is also more energy efficient. A study by Korea Water Resources Corporation (K-water) claims the technology is more efficient because it has a lower temperature during the day when compared to overland PV modules. This should be achieved due to the reflection of light from the water surface, which keeps the PV modules cooler.


Image courtesy of Korea Water Resources Corporation, from "A study on power generation analysis of floating PV system considering environmental impact"
The corporation states that compared to overland PV, the efficiency of the floating PV system is actually superior by 11% and more, as shown in the graph above. However, this study excludes data acquired when the system is moved by wind which has a significant effect on generation efficiency, so the report suggests the next step in developing this technology is to counter this challenge.
Separately, a study from the National University of Malaysia demonstrates the efficiency of the technology is continuing to improve, asserting that by passing water through a simple and cost-effective aluminium box at the back of the modules, the system has a "higher efficiency and total power gain than the conventional PV module."
Innovations in floating PV technology and increasing adoption in Japan offer clear evidence that barriers to clean technology can be overcome, when there is synergy with the policies of a government that is actively committed to finding clean, rational and affordable energy solution for its citizens.