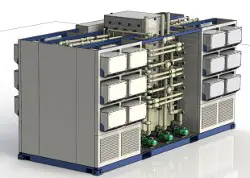 London based Waste2Tricity has brokered its first order for a low-cost alkaline fuel cell which will be used to increase efficiency at a small scale waste to energy gasification plant being developed by Powerhouse Energy Group (PHE).
W2T said that it has been working with PHE to evaluate its PyromexUltra High Temperature Gasification technology, in particular the potential of its use with the AFC Energy fuel cell which W2T holds the license to in a number of territories.
The company said that it is continuing to evaluate the PHE technology for smaller projects utilising Municipal Solid Waste (MSW) or Refuse Derived Fuel (RDF) and that the scale of both the 5 tonne and 25 tonne a day systems would help meet the proximity agenda for waste.
At the same time W2T claimed that the widespread adoption of such technology could create a widely distributed hydrogen production network – a requirement for a successful transition to a hydrogen economy.
"A successful combination of the technologies would be especially relevant in more remote areas without an existing distributed electricity system and so reliant on small scale diesel engines for local power generation," explained John Hall, managing director of Waste2Tricity
"The PHE systems operate not only on MSW type waste but also forest waste and other bio-waste materials, so combined with the fuel cell would offer an effective way of utilising local resources," he continued.
Keith Allaun, executive chairman of Powerhouse Energy Group commented: "With our modular Pyromex Ultra High Temperature Gasification technology we see a tremendous opportunity for leveraging the AFC fuel cell."
"This enhances the commercial platform we have developed, increasing the efficiency of our waste-to-electricityoffering," he added.
The sale of the first AFC Fuel Cell was said to be worth a total of £150,000.