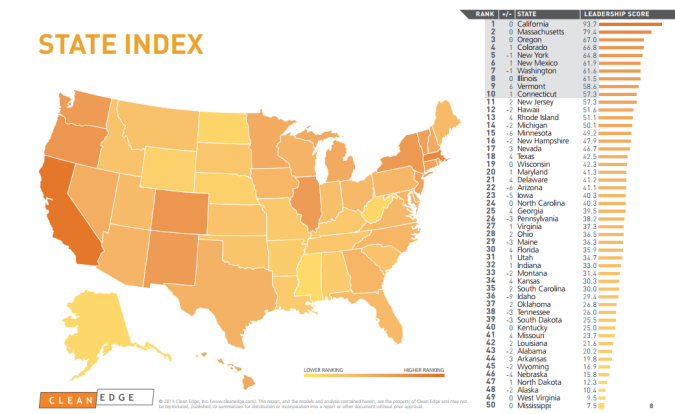 NEW YORK: California has emerged as the definitive driver of the American Clean Revolution, taking top place on the 2014 Clean Tech Leadership Index of US states, as five of its main cities are recognized as leaders on the accompanying metro list.
With strong support for solar power and an environmentally-aware population, California is popularly perceived as one of the US' greenest states, and this comprehensive study justifies the state's enviable reputation.
Drawing on multiple public and private sector data sets, research firm Clean Edge analyzes a wealth of different indicators to assess each state and city's true environmental credentials.
Clean Edge Managing Director, Ron Pernick, stressed the expansion of US cleantech "is largely being driven by state and metro-level activity. And it's no longer about small, barely visible slices of market share."
"Overall, renewable energy (from wind, solar, geothermal, biomass, and other sources) accounted for 49% of the nation's added electricity capacity in 2012 – its largest share ever and more than the 33% share of new generation capacity from natural gas", the Director affirmed.
For the state index, Technology, Policy and Capital are the cornerstones of the investigation, with each equally weighed and holding multiple sub-categories.
Although Massachusetts provided stiff competition, California took first place overall, with a particularly strong performance in the Technology pillar and a very high smart metering market penetration of over 70%.
Home to a host of natural resources, the west coast state also ranked highly on clean electricity generation. However, in this sub-category Midwestern states such as Iowa and South Dakota dominated, with both generating over 25% of their electricity from wind turbines last year.
Clean Edge Senior Editor, Clint Wilder, noted this level of generation places the state of Iowa ahead of Denmark in terms of wind power output.
In fact, even when hydro is excluded from the equation, nationwide, 11 states generated over 10% of their power from clean energy sources last year. Furthermore, 14 states nationally are home to more than 500 Leadership in Energy & Environmental Design (LEED)-certified green building projects.
2014 METRO INDEX
There was a notable link between climate leadership at the state level and green activity at the metro level. Eight of the top 10 metro areas are in the top four states, with California again distinguishing itself. San Francisco, San Jose, and San Diego all took the top three places, while Sacramento and Los Angeles made the top 10.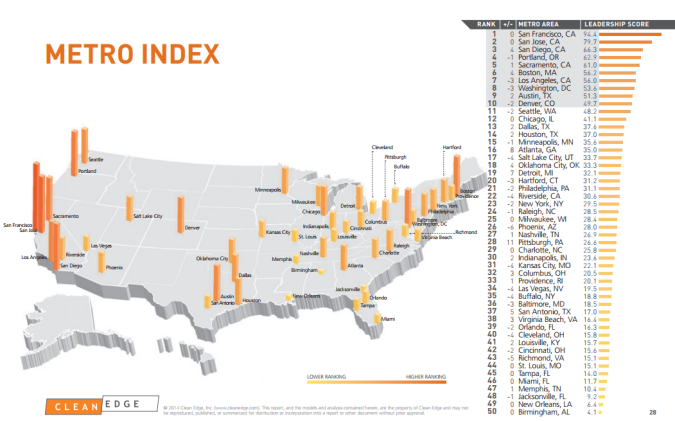 Like the state index methodology, the metro ranking is determined by reference to a number of equally weighted categories each comprising of multiple individual indicators.
To take first place, San Francisco had to achieve a high score in green buildings; advanced transportation; clean electricity and carbon management; and clean-tech investment, innovation, & workforce.
Washington, D.C. was the number one metro area for green building as measured by US Green Building Council (USGBC) and EPA data, while the Californian cities scored well on clean electricity and carbon management, as well as smart transport.
While the full report provides unequivocal evidence of effective climate action at both state and metro level, theanalysts caution sub-national progress is vulnerable to partisan attacks by lobbyists, legislators, and utilities in several states. Furthermore, those peddling a political agenda have already succeeded in scuppering certain states' implementation of cleantech friendly policies.
Libby Ferguson, States and Regions Director at The Climate Group commented: "This report demonstrates that state governments who take a leadership stance on responding to the low carbon growth opportunity derive immense benefits in terms of clean technology development. I congratulate the US members of The Climate Group States & Regions, a sub-national alliance of global climate leaders, who have all scored highly."
"Sub-national governments are in a unique position to drive clean tech development and create an environment for businesses and cities to benefit from low carbon growth. There is a clear link between low carbon leadership and economic resilience and governments that recognize this will ensure long term growth and prosperity for their citizens and businesses."