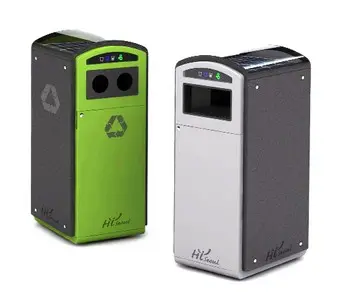 Ecube Labs Co., Ltd. (Korea) today announced that it will launch Clean Cap, the world's first rubbish fill level monitoring device entirely powered by solar energy, and present Clean Cube (solar-powered compaction bin) and Clean Cube networks (waste management software solution) at IFAT Munich 2014, the largest trade fair for the environmental solutions in the world.
Clean Cap is a rubbish fill level sensor device, which is attachable on a bin lid. Its ultrasonic sensor under the bin lid first reads the fullness level of rubbish inside the bin and sends the data to Clean Cube networks on a real-time basis via GSM or WCDMA network.  It provides the information of waste fill level for each unit (by colour), collection efficiency, battery capacity and many more and weekly or monthly statistics report to the administrator. Clean Cap lasts more than 17~20 days on a full charge and only weights 480g. Throughout Clean Cap's monitoring solution, it can cut significant amount of costs by eliminating unnecessary refuse collection trips and enables users to optimise their labour deployment and fleet operations and plan ahead based on the information.
At the show, Ecube Labs also presents solar-powered compactor with LED backlight AD panels, sensors for safety such as fire detection/hand detection sensors along with Clean Cube networks for smart cities. They are continuously conducting research and development on innovative and environmental products for smarter cities.