24 April 2013

St. Louis, Missouri based process automation specialist, Emerson Process Management, is to supply its digital automation technology to control a 12 MW plasma gasification waste to energy facility at Morcenx in southwestern France.
The facility, owned and operated by Bordeaux, France based CHO-Power – a wholly owned subsidiary of clean technology and renewable energy specialist, the Europlasma Group – will be fitted with Emerson's Ovation Expert Control System.
According to Emerson the system provides flexible and accurate control of the gasification process and enabled the plant to operate at maximum efficiency.
The facility generates power from 150 tonnes per day of industrial and wood waste, which Emerson said makes it the most powerful plant of its type currently operating globally. (See WMW story)
The plant is the first of its type to use the patented 'Turboplasma' gasification equipment to transform waste into very pure syngas thanks to the 1200°C temperatures being generated by the plasma torch.
The syngas is used to drive the turbine and generate electricity and 18 MWth of hot water from the cooling system is used to heat a vegetable greenhouse and a wood drier.
Teething trouble
In a statement last month CHO Power said that that since its construction was completed last summer, the plant has produced 2235 MWh of electricity, which it has sold and delivered to the grid, and that it has proven its overall efficiency thanks to the wood dryer equipment connected.
"Nevertheless the plant has not yet been commissioned because the duration of performance tests is not yet satisfactory," the company added.
According to CHO Power the main issue arises from one single piece of equipment (not built by its parent company Europlasma), which has not been able to date to deliver its performance on a steady basis.
"The plant has demonstrated its capacity to reach the floor power of 6 MW on a given period that CHO Power and their partners aim to increase," said the statement.
Control
The Ovation Expert Control System, together with the AMS Suite predictive maintenance software and smart instrumentation is part of Emerson's PlantWeb digital plant architecture, which it said will provide both advanced control and asset management capability for the facility.
The company explained that the Ovation system performs data acquisition and monitors and controls all major plant components to provide improved unit stability, responsiveness and thermal efficiencies, tighter overall control of plant operations and a more concise view of key plant and turbine parameters.
Emerson added that the system will provide embedded advanced algorithms and control routines that continually adjust the combustion process to compensate for the varying characteristics of biomass fuels to maximise both boiler and plant efficiency.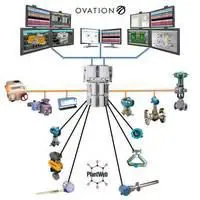 The system interfaces with the GE steam turbine, gas treatment system and gas engine using Profibus-DP communications.
Further to this the company said that its Ovation SIS (safety instrumented system) will provide SIL-3 protection for the boiler systems.
Predictive maintenance & diagnostics
According to its developer Ovation SIS employs digital intelligence and diagnostics to provide an integrated complete safety loop approach that helps increase process availability, reduce lifecycle costs and ease regulatory compliance.
The company said that the system also complies with the stringent international standard IEC 61511 – a technical standard which sets out practices in the engineering of systems that ensure the safety of an industrial process through the use of instrumentation.
Emerson also supplied a wide range of instrumentation for the facility including Rosemount temperature, pressure and flow transmitters, Fisher control valves and Rosemount Smart Wireless temperature transmitters.
"We selected Emerson's Ovation system because it provides the levels of flexibility and control needed to cope with the varying characteristics of biomass fuels," explained Yannick Ferriere, project manager at CHO Power.
Read More
POLL: Is waste Gasification Coming of Age
With an increasing number of projects globally, are waste gasification technologies coming of age?
SITA's Teesside Waste to Energy Proposal Backed by Merseyside
The Merseyside Recycling and Waste Authority has named a consortium led by SITA as preferred bidder for a 30 year contract worth £1.18 billion to manage 430,000 tonnes of waste each year.
Second Plasma Gasification Plant for Teesside Following Government Deal
Air Products is to build a second 350,000 tonne per year waste to energy plasma gasification facility on Teesside following the signing of a 20 year power purchase agreement with the UK government's Cabinet Office.