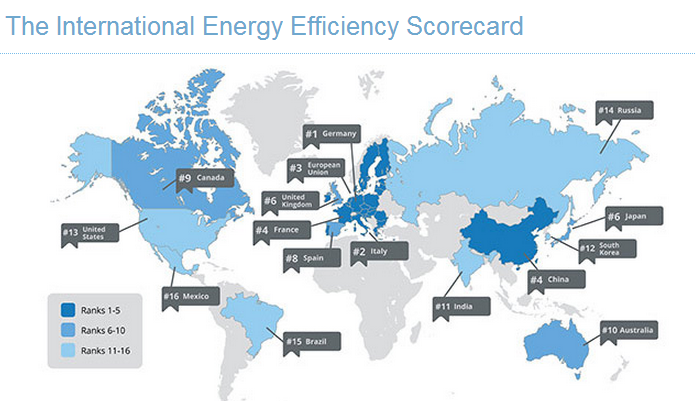 LONDON: Germany is the world's most energy efficient country, according to a new report by the American Council for an Energy-Efficient Economy (ACEEE).
Sixteen of the world's largest economies who collectively represent 71% of global electricity consumption, were examined by the bipartisan nonprofit in an attempt to determine who is leading on sustainability.
The analysis examines how energy is managed across three key societal sectors: buildings, transport and industry, with "national efforts" also included. To determine which nation took the top spot, 31 metrics relating to both policy and performance were evaluated.
While Germany's climate leadership earned it first place, Italy, France and China all scored well. In fact the EU as a whole tied joint fourth with China. The economic and political bloc is on track to meet its 2020 target of 20% improvement in energy efficiency and is currently reevaluating its Energy Efficiency Directive for the 2030 climate and energy package.
"Germany is a prime example of a nation that has made energy efficiency a top priority," ACEEE Executive Director Steven Nadel enthused, however, the Director was less positive about the United States which ranked 13th out of 16 countries.
"Long considered an innovative and competitive world leader, [The United States] has progressed slowly and has made limited progress since our last report, even as Germany, Italy, China, and other nations surge ahead", the Director noted.
EU LEADERSHIP
German policies have been instrumental to the decarbonization of the EU, with the latest Eurostat figures revealing 19% of Europe's renewable energy was developed in Germany. Furthermore from 1995 to 2013, Germany led Europe's solar market.
Libby Ferguson, States & Regions Director at The Climate Group stressed the role sub-national leadership has played in driving Germany's climate action: "German members of the States & Regions Alliance are a driving force of innovative climate policies that are being shared across our global network. States such as North Rhine Westphalia, Baden-Wuerttemberg and Bavaria are realizing the economic benefits from being leaders in energy efficiency through impressive trade outcomes based on global demand for energy efficient products."
Responding to the ACEEE report, Dr. Philipp Ackermann, Minister and Deputy Chief of Mission, Chargé d'Affaires, Embassy of the Federal Republic of Germany remarked: "We see this as a validation that Germany's measures are bearing fruit in its ongoing efforts to transition towards a low-carbon and energy-efficient economy. At the same time, we will continue to strive for further improvements."