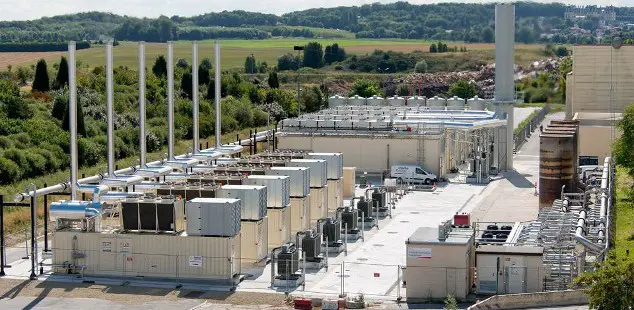 French waste management Firm, Véolia Propreté has inaugurated a 17.3 MW landfill gas to energy facility in Plessis-Gassot, France – the largest in the country.
The project has been developed with energy services company Dalkia  – a subsidiary of Veolia Environnement(Paris Euronext: VIE and NYSE: VE) and Électricité de France (EDF) – Liverpool, UK headquartered distributed power services provider Clarke Energy – GE's authorised distributor of Jenbacher gas engines in France
According to Clarke Energy, the facility is the country's most powerful landfill gas-fueled power plant and features 10 of GE Distributed Power's (NYSE: GE) ecomagination qualified Jenbacher gas engines.
The new Electr'od landfill plant was formally opened by Bernard Harambillet, managing director of Veolia Propreté France; François Habègre, managing director of Dalkia France; and Didier Lartigue, managing director of Clarke Energy's French operations.
Clarke Energy explained that the new cogeneration plant replaces a smaller, less efficient steam turbine-boiler system, and generates enough electricity to power more than 41,000 French homes (excluding heating).
Installing the Jenbacher engines is claimed to have increased the power output of the landfill gas plant by 5 MW while also improving its electrical efficiency from 22% up to 40%.
The plant consists of 10 Jenbacher units – four 2.7 MW J620 gas engines, five containerised 1.1 MW J416s and one containerised 1 MW J320.
Clarke Energy added that the project also represents the first installation of GE's Jenbacher Type 6 landfill gas engines in France.
The electricity is sold to Électricité Réseau Distribution France (ERDF) for use by residents and businesses throughout France.
New heat network
With the opening of the cogeneration project, Clarke said that Plessis-Gassot has become the first town in France to have a district heating scheme fuelled by biogas.
In addition to electricity, the cogeneration facility is said to also produce 30,000 MWh/year of thermal energy, equivalent to the amount consumed by around 2850 homes.
The heat energy is being used to feed a new heating and hot water network that serves homes and shared facilities in Plessis-Gassot, including the town hall, community center, church and municipal building. As a result, the electric heating bills for Plessis-Gassot residents that are connected to the grid supplied by Electr'od are expected to fall by 92%.
Project planning
The design, construction and operation of the repowering project was carried out on behalf of Véolia Propreté by Clarke Energy, GRS Valtech and Dalkia implemented the.
Specifically, Dalkia is leading the operation of the new Electr'od power plant, optimising the export of power and energy recovery. Clarke Energy engineered, installed and will maintain the facility to ensure high levels of equipment availability, and GRS Valtech provided the equipment for the landfill gas pre-treatment process.