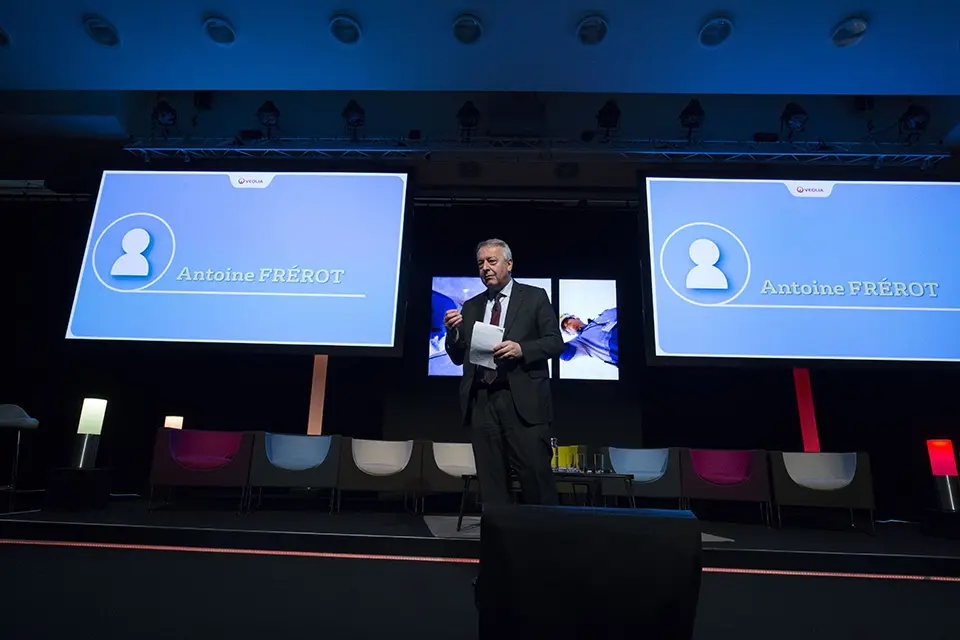 On the initiative of Bruno Le Maire, France's Minister of Economy and Finance, the seminar "For a new plastics economy " gathered today in Bercy all actors in the sector. Antoine Frérot, Veolia's Chairman and CEO, presented the Group's strategy for recycling plastics and its recommendations for a new plastics economy.
The economic and environmental challenges of recycling plastic
It is estimated that half of the 8.3 billion tonnes of plastic produced in the world between 1950 and 2015 is now in landfill or in the environment. 150 million tonnes of plastic form a "7th continent in the middle of the oceans" which threatens the marine ecosystem. Given that global annual production (330 million tonnes) of plastic will quadruple by 2050, plastic recycling is a major issue.
At present, the plastic recycling rate is only 9% (as against 80% for ferrous metals, 60% for paper, and 50% for glass). With regulations gradually evolving towards recovery and a ban on plastics in landfill, particularly in Europe and Asia, the market for recycled plastics is expected to grow by 7% per year by 2025.
According to Deloitte, achieving a plastic recycling rate of 60% in Europe by 2025 (compared to 15% today) would create 80,000 direct jobs and 120,000 indirect jobs.
Veolia strengthens the plastic circular economy
"Currently, Veolia's turnover is only €200 million in the field of recycled plastic. Our goal is to increase this figure fivefold by 2025. Our Group's ambition is to structure an industrial recycling and plastic recovery sector and so offer an alternative to virgin materials," explained Antoine Frérot.
By 2025, Veolia will recycle twice as much plastic as it does today (500,000 tonnes versus 250,000 tonnes), combining organic growth with targeted acquisitions. In France, Veolia already operates 4 plastic processing centres and 89 sorting centres.
Veolia recommends recycling plastics as a lever for the circular economy
To encourage a jump in demand for raw materials from recycling, Veolia recommends monetising the environmental benefit of recycling, preferably at European level: carbon tax, reduced VAT, recycled raw material tax credit, exemption from energy taxes.
The Group also recommends developing eco-design, providing support for the new sector, encouraging better waste management (incentive pricing, performance contracts), and relocating the flows now exported to China to France.
"Veolia wants to contribute to the collective reflection leading to the development of the "Circular Economy Roadmap" and is committed to playing its full part in creating a real waste to recycled raw materials or green energy industry in France, "concluded Antoine Frérot.