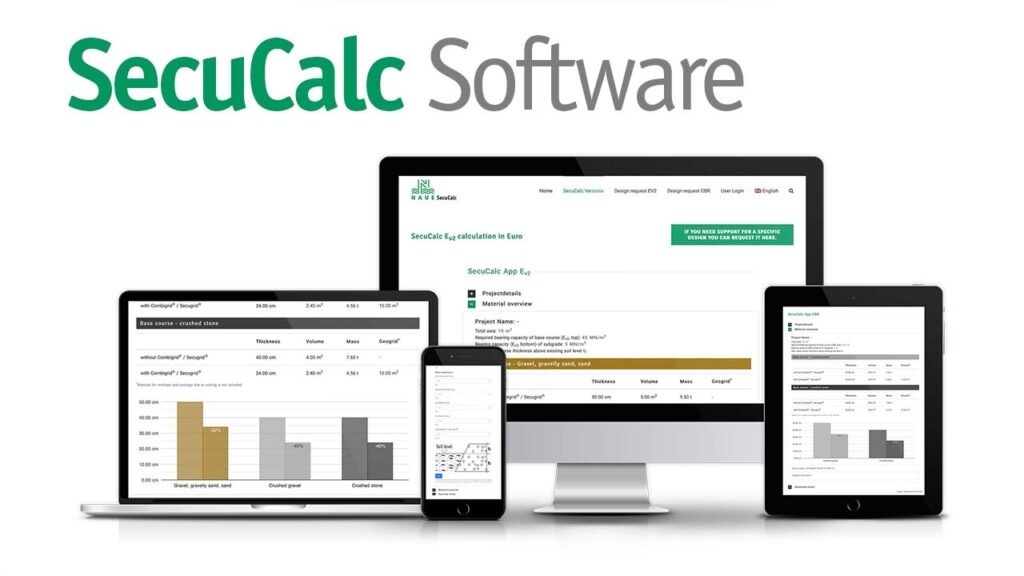 New SecuCalc Software for the design of base course thicknesses
By using the new NAUE's SecuCalc Software, you are designing base course thicknesses for Secugrid® or Combigrid® stabilised and reinforced base courses in road construction as well as for parking and storage areas or similar applications.
Depending on the operational life of your infrastructure project, both deformation-related (rutting) as well as load-bearing (EV2, CBR) design criteria can be defined based on which the thickness of the base course is determined.
The result of the calculation allows a direct cost comparison between Secugrid® & Combigrid® stabilised and reinforced base courses and conventional construction methods without geosynthetics.
The basis for this are the project-specific parameters and prices, which you defined.
Secugrid® and Combigrid® stabilised and reinforced construction methods offer the following advantages:
Increase of the bearing capacity of soft subsoils
Improved serviceability
Increase of service life
Reduction of base course layer thicknesses
Reduction of project costs