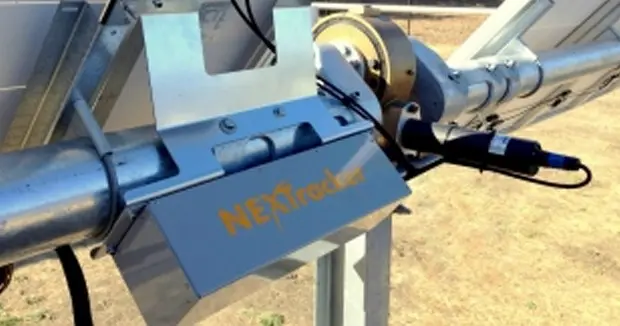 FREMONT, Calif., June 2, 2015 /World Of Phototvoltaics/ — NEXTracker, Inc., designer and manufacturer of the world's most advanced single axis photovoltaic trackers, announced the completion of tracker commissioning for the SunEdison 82 megawatt Pacifico and Choluteca solar power plants in Honduras. SunEdison, Inc. (NYSE: SUNE), the world's largest renewable energy development company, developed and built the system.
"SunEdison's experience outfitting projects with NEXTracker technology continues to yield positive results," stated Chief Operating Officer of Solar Operations for SunEdison David Springer. "NEXTracker's higher energy yield design and installation cost savings help us maximize project financial returns. NEXTracker helps us minimize site grading requirements and reduces the cost of maintenance."
"It's inspiring to see Honduras emerge as one of the largest solar markets in Latin America. We're extremely proud to be providing our transformational trackers to SunEdison, especially for the completion of these milestone projects – two of the largest solar installations in Honduras," said Dan Shugar, CEO of NEXTracker. "SunEdison is leveraging NEXTracker to accelerate project deployment schedules and maximize project economics in Latin America and around the world."
Global demand for solar trackers continues to expand rapidly as the market has transitioned to higher irradiance locations where trackers deliver outstanding increases in power production. NEXTracker's technology is proven to be a cost-effective solution to maximize solar project returns. Advanced features address and overcome layout constraints, significantly reduce the number of foundations and use of steel, eliminate stress on the drive components by aligning modules with the axis of rotation, and simplify AC wiring requirements.
About NEXTracker, Inc.
NEXTracker offers a significant breakthrough in horizontal tracking, with lower costs, better performance and more flexibility for solar power plants of all sizes. These benefits increase solar project profits for developers, EPCs and system owners. Leveraging world-class design and installation expertise, NEXTracker has delivered trackers for dozens of projects, across four continents. Headquartered in Fremont, California, NEXTracker is one of the fastest growing clean technology companies.
About SunEdison
SunEdison is the world's largest renewable energy development company and is transforming the way energy is generated, distributed, and owned around the globe. The company develops, finances, installs, owns and operates renewable power plants, delivering predictably priced electricity to its residential, commercial, government and utility customers. SunEdison is one of the world's largest renewable energy asset managers and provides customers with asset management, operations and maintenance, monitoring and reporting services. Corporate headquarters are in the United States with additional offices and technology manufacturing around the world. SunEdison's common stock is listed on the New York Stock Exchange under the symbol "SUNE." To learn more visit www.sunedison.com.
To view the original version on PR Newswire, visit:http://www.prnewswire.com/news-releases/nextracker-completes-tracker-commissioning-for-82mw-of-sunedison-solar-projects-in-honduras-300092337.html
SOURCE NEXTracker, Inc.