Highway 40 (PRWEB) February 23, 2011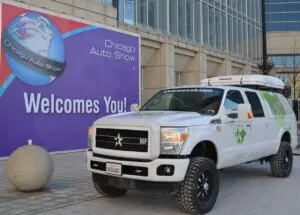 Tom Holm of the EcoTrek Foundation is on a first-ever drive across America proving the value and viability of cellulosic ethanol (C.E.), a domestically produced biofuel made from non-edible corn cobs and husks. These findings come as petroleum prices are surging during civil unrest in the Middle East.
Because Holm is the first to extensively test C.E. in real world conditions, his tour is a historical milestone for the American energy, agricultural and automotive industries. It is also considered a major advancement in biofuels among environmentalists.
C.E., produced by South Dakota-based POET, can replace gasoline in 10,000,000 FlexFuel vehicles that are on the road in America today. These vehicles can use up to an 85 percent blend of C.E. (15 percent gasoline) without requiring a single modification. While POET is making C.E. from corn husks and cobs today, soon discarded paper, sawdust, urban waste and other plant-based materials will be used to produce this renewable fuel.
The Department of Defense, the American agricultural industry and the U.S. government are reviewing the data Holm is collecting during his tour. Many companies involved in the automotive industry are also considering Holm's findings, including Ford, General Motors and Chrysler.
The successful expansion of C.E. production could bolster the U.S. economy, strengthen America's national security, stabilize fuel prices, preserve the environment and remove carcinogens from the atmosphere.
So far, Holm's journey has taken him through temperatures ranging from 100 degrees in the California desert to 25 degrees below zero in Chicago. A standard heavy-duty FlexFuel truck is being used for this test, because of its popularity with municipalities, government agencies, farmers, ranchers and individual truck owners. Although EcoTrek's truck has had some accessories added to it, no modifications were made to its engine, drive train or exhaust. The truck remains under full manufacturer's warrantee and can still be serviced at any authorized dealership.
"C.E. is available today. It can run in 10,000,000 cars without modifications. This fuel can be pumped at gas stations and it can be produces in all 50 states. C.E. can create massive growth in America's economy and provides a means to keep our energy money at home (thereby increasing national security). It is also eco-considerate. And, on a personal note, it can help reduce cases of cancer among our children and family members," Holm said.
The journey across America in EcoTrek's FlexFuel truck fueled by POET cellulosic ethanol is a great achievement, but Holm's greatest triumph was helping his son Christian beat cancer. Christian has since become the captain of his high-school water-polo team and is now a student at the University of San Diego (USD). He hopes to become a Navy SEAL and a medical doctor.
"When my three-year-old son was diagnosed with leukemia, studies suggested his cancer may have been caused by his ingesting diesel fumes leaking into my motorhome," Holm said. "So, while working on his treatment, I set out to find viable, organic fuels to help prevent further suffering in other children and their families. C.E. is proving to be such a fuel."
Tom Holm continues his expedition across the United States, powered by cellulosic ethanol from POET. He displays the EcoTrek truck and speaks about C.E. at schools, at public events and with the media throughout America.
Tom Holm is available for on-site and phone interviews. Contact him at tomholm(at)ecotrek(dot)com.
For more information about the non-profit EcoTrek Foundation, please visit http://www.ecotrek.com.
###
©Copyright 1997-
, Vocus PRW Holdings, LLC.
Vocus, PRWeb, and Publicity Wire are trademarks or registered trademarks of Vocus, Inc. or Vocus PRW Holdings, LLC.