Reston, VA (PRWEB) February 11, 2011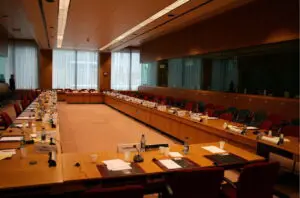 Bush Slaton, LP. announced today that it has executed a Memorandum of Understanding (MOU) to develop a joint venture with Naanovo Energy UK Limited to build a three hundred million dollar ($ 300,000,000) Waste to Energy (WTE) Plant in Bangladesh. The six-module plant will provide 42 Megawatts of electricity for the city of Dhaka, Bangladesh, and will utilize Naanovo's proprietary WTE/MaaxTM plant design.
The six (6) module WTE/MaaxTM plant will be capable of combusting one thousand and eighty (1,080) tons of municipal solid waste(MSW) per day. The unsorted MSW feedstock will be reduced to levels that are below 10% of its original volume and 20% of its original weight, with the resulting ash residue being used in the production of cinder blocks and other concrete products. The plant will also produce significant quantities of potable water and scrap metal, along with the ash products, for resale into the local market.
Utilizing state of the art wet and dry scrubbers, in addition to combustion temperatures between 1,050 and 1,200 degrees Centigrade, emissions from the plant will meet or beat the highest emission standards established in Europe and the USA and will at all times adhere to strict guidelines for the health and safety of plant workers and the local population surrounding the plant. Approximately 100 full-time plant jobs and up to 500 construction jobs will be created by the project.
Financing for the project is being arranged pending the successful completion of the project feasibility study, which will commence in March 2011, and will be collateralized by off-take agreements for the sale of energy, water, scrap metals, and ash products generated by the plant. Construction is expected to begin by August 2011 with the plant becoming fully operational by the middle of 2013.
About Bush Slaton, LP.:
Bush Slaton LP. (BSLP) is a multi-national consulting firm that boasts over 75 years of combined experience in the global arena. Bush Slaton has developed the strong domestic and foreign relationships needed to fortify project success within the renewable energy sector as it specifically relates to this project.
Bush Slaton combines global vision with local insight, relying on an excellent team of more than 50 professionals operating in 6 countries with a core focus to uncover superior opportunities in North America, Europe, Asia, Australia, the Middle East, Africa, and Latin America. Given the current financial climate in Bangladesh, BSLP sees a great opportunity for rapid growth within the renewable energy sector and is strategically positioned to capitalize. As an unyielding representation of commitment to this particular endeavor, BSLP will assign an exclusive on-site management team to this project for its respective duration. http://www.bushslaton.net
About Naanovo Energy UK Limited:
Naanovo Energy UK Limited, located in Emesworth, UK, is a member of the Naanovo Group of Companies which comprises subsidiaries and affiliated companies in the United Kingdom, the Gambia, Uganda, Nigeria, Syria, Guatemala, El Salvador, Brazil, South Africa, United Arab Emirates, the United States and Canada. Established in 2001, Naanovo is emerging as a world leader in WTE and Concentrated Solar Power (CSP) with over 350 MW of WTE and CSP projects currently being developed around the world. http://www.naanovo.com
Safe Harbor Safe Harbor
1. This press release contains forward-looking statements within the meaning of Section 27A of the Securities Act of 1933, as amended, and Section 21E of the Securities Exchange Act of 1934, as amended (the "Exchange Act"), and as such, may involve risks and uncertainties. The Company's actual results, performance, and achievements may differ materially from the results, performance, and achievements expressed or implied in such forward-looking statements.
# # #
©Copyright 1997-
, Vocus PRW Holdings, LLC.
Vocus, PRWeb, and Publicity Wire are trademarks or registered trademarks of Vocus, Inc. or Vocus PRW Holdings, LLC.