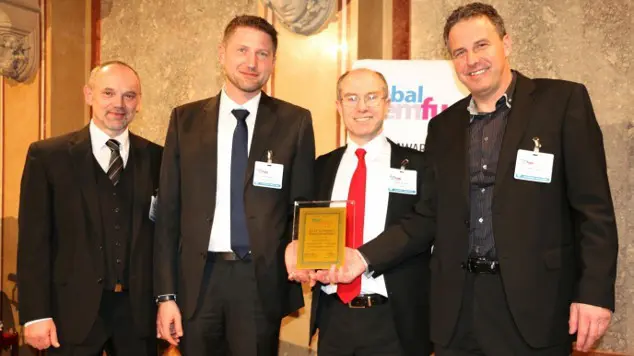 For the second time Lindner-Recyclingtech has been awarded with the desirable Global CemFuels Award.
Lindner-Recyclingtech has been awarded, for the second time, with the prestigious Global CemFuels Award. The 8th Global CemFuels Conference and Exhibition was held in Vienna, Austria, February 25th – 26th 2014.
Over 190 delegates from more than 30 countries took part in the elite conference to look at the topic of "Alternative fuel for the cement and lime industry". The delegates had the opportunity to visit the busy exhibition, in which Lindner-Recyclingtech was successfully represented.
The annual award was presented during the festive Global CemFuels Gala Dinner at Palais Ferstel in the heart of Vienna´s historic district. The international Global CemFuels Award, covering five categories, reached a new record this year by receiving 1200 votes from alternative fuel experts from 42 countries.
In the category "Most innovative technology for alternative fuel use" Lindner-Recyclingtech was announced as the winner for their cutting edge RDF-compact line.
In 2009 Lindner-Recyclingtech received a previous sought after accolade and won the award for their comprehensive range of recycling solutions.
Lindner-Recyclingtech said that it was very proud to be nominated and to win these awards, especially for the second time!
The company added that it is greatly encouraged and determined to follow the path of – Innovation and Quality, tailor-made for its customers.
Read More
Wheelabrator & Inashco JV to Recycle Metals from Waste to Energy Ashes
Inashco, a specialist in the recovery metals for the ashes of waste to energy facilities, has formed a joint venture with Wheelabrator  to the recycle metals from ashes.
$240m Plasma Gasification Waste to Energy Deal Signed in Barbados
Cahill Energy has signed an agreement with the government of Barbados to build and operate a plasma gasification waste to energy facility on the Caribbean island.
50% Recycling Target for Indianapolis but Deadline Unclear
Legislators in Indiana have set the state a target of reaching a 50% recycling rate and are to implement new recycling data reporting requirements.