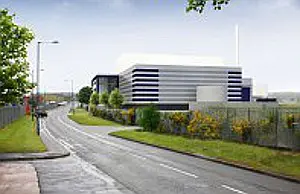 A 300,000 tonne per year waste to energy facility that will use gasification technology to process residual waste in the UK's West Midlands has been awarded planning permission by Walsall Council.
The site had previously been awarded planning permission for a waste recovery and combined heat and power plant. However, the developer, BH EnergyGap, explained that to enable the development of the site to be workable and viable, a new planning application was submitted in May 2013 toWalsall Council.
According to the company, once complete the facility will h achieve a landfill diversion rate of around 90%, will recover materials for recycling and will produce 19 MW of electricity by processing residual waste.
BH EnergyGap added that the Resource Recovery and Renewable Energy Production Facility located on at Fryers Road, Birchills Leamore, Walsall is to be named 'WandE' and will treat mixed municipal, commercial and industrial wastes.
Materials arriving at the site will be sorted and segregated to maximise their value. The developer said that once separated using the latest sorting technology such as magnets, eddy currents, near infrared cameras and air jets, materials such as metals, plastics and rubble will be sent onward for recycling.
The company said that residual material will be used to produce energy using advanced thermal treatment to produce electricity or potentially heat for export from the site.
According to a report by the Express and Star, members of the Council's Planning Committee agreed there should be several conditions in place to ease some public concerns, such as quarterly readings from the chimney.
The report said that there had been 11 letters of objection from residents and businesses, and that concerns had also been raised by councillors Tim Oliver and Shaun Fitzpatrick.
There will also be a traffic plan of which routes should be used when making deliveries and it is expected that there will be over 80 truck arriving and departing from the site each day.
"It is not every day someone comes in to invest £100 million and it is bringing in new jobs. We have always said Walsall is open to business," Councillor Mohammed Arif, cabinet member for environment, is reported to have said.
Read More
Gasification waste to energy plant license revoked in Scotland after fire
A waste to energy gasification plant that suffered from a devastating fire last month has been issued a notice from the Scottish Environment Protection Agency to revoke its license.
What's in your mobile phone?
Dr Hywel Jones from the Materials and Engineering Research Institute at Sheffield Hallam University shows us what's in our stuff by smashing apart mobile phones in order to raise awareness of the use of the elements in mobile phones.
Coffee machine and heater tear downs
Ever tried to take apart a coffee machine or a heater order to see what happens to it at end of life?
Engine remanufacturing at CAT Reman
The Great Recovery Workshop visits CAT Reman in Shrewsbury where engines are given a second life through their re-manufacturing programme.