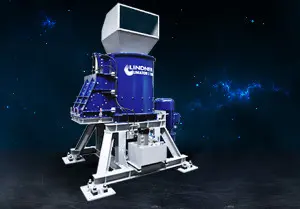 Austrian shredding equipment specialist, Lindner has launched a new generation of vertical crushers that it said can improve biogas yields when used for processing biomass substrates.
The company explained that in recent years much research has been carried out into the improvement of biogas yields from organic wastes and improving gas quality for injection into existing gas networks.
Additionally research has been conducted into reducing the running costs of mixers and pumps as well as the preventing floating layers and extending the range of substrates and input materials that can be processed.
According to Lindner, most of the tests made with conventional systems such as hammer mills, granulators and impact mills led to very good results for certain materials but unsatisfactory outcomes with others.
As such, the company said that it has developed an improved impact crusher called.
Lindner explained that its LIMATOR impact crusher provides a rotating multi-element bracket to which movable crusher plates and crusher tools are attached. The charged substrates are broken up by the movable crusher plates and the crusher tools, as well as by the momentum of the rotating substrates.
The shredding specialist claimed that its new impact crusher system gently accomplishes the maximum possible break-up of substrates and therefore a high gas yield.
The company added that through a variable adjustable slider the LIMATOR can be optionally operated either continuously or in batch processing mode.
Lindner claimed that its system reduces costs, improves biogas yields and increases the variety of substrates and input materials which can be processed.
Read More
65,000 TPA biogas plant to process mixed organic wastes in Canada
Harvest Energy is to open a 65,000 ton per year anaerobic digestion biogas plant that will process mixed organic wastes in London, Ontario using GWE technology.
90,000 TPA Dry Anaerobic Digestion Biogas Plant in San Jose uses Special Concrete
Specially engineered concrete supplied by Central Concrete is being used in the construction of Zero Waste Energy's 90,000 ton per year dry AD biogas facility in San Jose, California.
Waste plastic to oil recycling firm to close operations in Ontario
Ontario, Canada based waste to oil specialist JBI will close operations at its recycling facility in Ontario over the next few weeks as a result of cost cutting measures.
Waste Gasification to Biofuel Project to Mine Landfill in Maryland
Washington County, Maryland is to develop an RDF facility to process MSW and a waste gasification facility that will produce biofuels from RDF. A landfill mining project is also proposed.