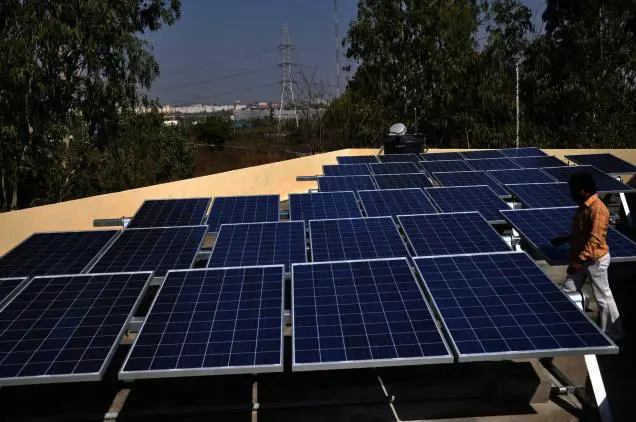 The total grid-connected solar capacity, commissioned under the National Solar Mission, crossed the 2,500-MW mark and stood at 2,632 MW as on March 31, 2014. Of the total, a little over a third of capacity was commissioned in Gujarat.
A total capacity of 947 MW was commissioned during fiscal 2013-14 and Madhya Pradesh added highest capacity of 310 MW during the year, according to a document of Union Ministry of New and Renewable Energy (MNRE).
Of the commissioned, higher contribution came from state-policy driven projects at 1,322 MW, followed by MNRE projects at 688 MW, REC Scheme at 491 MW and the rest came from RPO (renewable purchase obligation), private sector rooftop and central government organisations.
Gujarat (916 MW) topped the cumulative capacity table, followed by Rajasthan (730 MW), Madhya Pradesh (347 MW) and Maharashtra (249 MW), among others.
"The solar market potential remains as large as ever, even in a slower-growing economy. As power shortfalls continue, peak shortage is a critical problem that has stifled industrial growth, and back-up generation is becoming increasingly expensive. The diesel price hike of 50 paise a month since January 2013 has resulted in about 15 per cent increase in diesel prices over the last 13 months, making solar a very attractive option," Raj Prabhu, CEO and Co-Founder of Mercom Capital Group, said.
While the total new capacity addition in renewable sector for 2013-14 is awaited, January 2014 saw two milestones — the total grid-interactive renewable energy capacity in the country crossed 30,000 MW and the total installed capacity of wind segment crossed 20,000 MW.