US Renewables Group Announces Acquisition of Tracy Biomass Generation Facility
Los Angeles, CA (PRWEB) February 1, 2007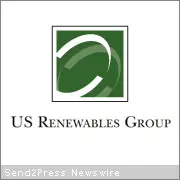 USRG Power & Biofuels Fund II, LP announced today that it has acquired the 19.4 net megawatt Tracy Biomass Generation Facility, located in Tracy, California. The Tracy facility is located approximately 45 miles east of Oakland, California and uses urban waste and agricultural waste as fuel to generate nearly 20 megawatts of electricity. USRG purchased the ownership interests of Thermal Energy Development Partnership, LP, which owns and operates the facility.
Under USRG leadership, the Tracy Biomass Generation plant will continue to sell power to Pacific Gas and Electric Company. The facility is capable of generating base-load renewable energy for as many as 20,000 homes in Northern California.
Lee Bailey, Managing Director, USRG Management Company, LLC, said, "The acquisition of the Tracy Biomass facility is a critical step in our efforts to build the leading portfolio of renewable power and clean fuel generating facilities. The Tracy Biomass operation compliments our previous acquisition of Bottle Rock Power Corporation, also located in California. As more and more States across the country pass renewable energy legislation and guidelines, USRG is uniquely positioned and qualified to help move the clean fuel sector forward and change the country's energy consumption profile."
USRG has hired North American Energy Services to serve as facility operator and manager, as well as PurEnergy as the Asset Manager.
About US Renewables Group
USRG Management Company, LLC ("USRG"), based in Santa Monica, CA, with offices in White Plains, NY, is a private investment company that acquires, develops and operates renewable power generation and clean fuel assets.
Contact:
Steven Gottlieb
Gottlieb Group Communications, LLC
206.427.9591
###
©Copyright 1997-
, Vocus PRW Holdings, LLC.
Vocus, PRWeb, and Publicity Wire are trademarks or registered trademarks of Vocus, Inc. or Vocus PRW Holdings, LLC.