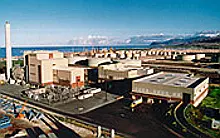 A recent CNN news report has highlighted how fishermen in Hawaii are collecting discarded fishing nets and other waste items found in the Pacific as part of the Nets-to-Energy program on Hawaii.
The nets recovered under the program are taken to Covanta's (NYSE: CVA) waste to energy facility in Honolulu, which processes up to 3000 tons (2700 tonnes) per day on the island of Oahu, generating some 90MW – around 10% of the island's total requirement.
In 2012 Covanta completed a 900 ton-per-day expansion of existing waste to energy facility, which included the addition of a third combustor unit, turbine/generator and associated air pollution control equipment.
According to the report up to 300,000 marine mammals are killed each year by rogue fishing nets swirling in the ocean.
The full report is below:
Source: Waste Management World
Read More
Covanta's Honolulu Waste to Energy Plant Expanded to 90 MW
New Jersey based waste to energy specialist, Covanta Energy  completed work to expand the H-POWER facility, owned by the City and County of Honolulu, to 90 MW.
Three 1000 tpd Waste to Energy Plants Sought in Mumbai, India
International companies have been invited to submit proposals for three 1000 tonne per day waste to energy facilities in Mumbai
Viridor's 30 MW Waste to Energy plant to Supply Heat to Cardiff
The 30MW waste to energy facility being built by Viridor at Trident Park in Cardiff is to supply an additional 20 MW of heat to a district heating system.
Waste to Energy Gasification Pilot Plant in Colorado
Denver, Colorado based waste gasification specialist, Vista International Technologies, has begun construction on its pilot waste to energy project.