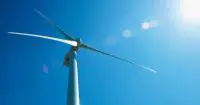 DTEK Group orders 35 V112-3.0 MW wind turbines for second stage of Botievo wind project.
With reference to the Vestas Wind Systems A/S' company announcement No. 11/2013 of 29 March 2013, Vestas is pleased to announce another sale in the key emerging market of Ukraine. The DTEK Group has ordered 35 V112-3.0 MW turbines that constitute the second stage of the Botievo project, located in the coastal area of the Zaporozhye region, near the village of Botievo. The wind power plant will have a capacity of 195 MW when completed and will be the largest wind power plant in Ukraine.
In the autumn of 2012, Vestas installed and commissioned 30 V112-3.0 MW turbines in the first stage of the Botievo project. The new order includes supply, installation and commissioning of 35 V112-3.0 MW wind turbines, together with a VestasOnline® Business SCADA system and an AOM 4000 service agreement. The turbines are planned to be delivered at the end of 2013 and are scheduled to be commissioned in the summer of 2014. 
"The construction of a wind power plant of such size requires selecting the best suppliers of wind power equipment," states Guerman Ainbinder, Director of Wind Power LLC, who is part of the DTEK Group. "We are glad to continue our cooperation with Vestas, a global leader in wind turbine manufacturing. During the first stage of the Botievo wind farm construction, Vestas has proven itself a reliable partner, and we are confident that our cooperation during the second stage of the project, the most advanced wind power plant in Ukraine, will be successful."
"We are happy that DTEK demonstrates full confidence in the quality of our partnership and technology and the business case certainty we offer. Vestas is proud to be part of the Botievo II and to be chosen as supplier for another 35 high-performing V112-3.0 MW turbines for this wind power plant – the largest one in Ukraine", says Thomas Richterich, President of Vestas Central Europe. "We are proud to be DTEKs partner and to support their vision to further develop the promising Ukrainian wind market."
About DTEK
DTEK is the largest privately-owned vertically-integrated energy company in Ukraine. The company is part of the financial and industrial Group, System Capital Management (SCM). DTEK's enterprises form an efficient production chain from coal mining and preparation to electricity generation and supply. For more information, see 
www.dtek.com
. Wind Power LLC is a company in the DTEK Group, which was created in 2008 and deals with the development, construction and operation of wind power plants in Ukraine. Wind Power LLC implements a project portfolio for construction of onshore wind power plants with the total capacity of 1,200 MW on the coast of the Sea of Azov. The  Botievo wind power plant will lead to annual reduction of greenhouse gas emissions equivalent to 551,000 tons of CO2.
About Vestas
Every single day, Vestas wind turbines deliver clean energy that supports the global fight against climate change. Wind power from Vestas' more than 49,000 wind turbines currently reduces carbon emissions by approximately 55 million tons of CO2 every year, while at the same time building energy security and independence. Today, Vestas have installed turbines in 73 countries, providing jobs for approximately 18,000 passionate people at our service and project sites, research facilities, factories and offices all over the world.
The headquarters of Vestas Central Europe is located in Husum. The business unit is responsible for the sales and marketing of wind power systems as well as for the installation and operation of  wind power plants in Germany, Benelux, Austria, Russia, Eastern Europe and Southern and Eastern Africa.
We invite you to learn more about Vestas by visiting our website at 
vestas.com
.