7 May 2013
By Ben Messenger
Managing Editor of Waste Management World magazine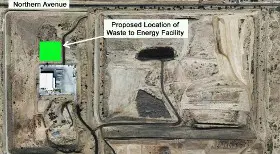 Seville, Spain based Abengoa, which provides technical solutions for renewable energy and environmental projects, is to develop a waste to energy gasification facility in Arizona, U.S.
According to Abengoa (mce:ABG.B) it has been selected by VIESTE Energy – a Chicago, Illinois-based base load renewable energy development entity – to undertake the design, construction, operation and maintenance of the plant for a period of 30 years.
The company said that the planned facility will treat waste from the city of Glendale, Arizona, and represents a total investment of $110 million.
Under contract with VIESTE Energy, Abengoa said that it will not maintain an interest in the assets it constructs, and that the construction period will last for about 20 months, during which about 50 jobs will be created directly and indirectly.
The company explained that the project includes the receipt, sorting and recycling of up to 180,000 tons (163,000 tonnes) of municipal solid waste (MSW) per year.
The project will feature a gasification based process which Abengoa said will allow the maximum use of MSW fractions and the production of up to 350 tons (318 tonnes) of gas per each day, which will be used to generate 15 MW of electricity.
Abengoa added that the material processing portion of the project has already commenced with the balance of the project following shortly behind.
Sustainable solution to waste
According to the company it has worked for years on developing a solution that simultaneously solves the efficient management of MSW, is environmentally friendly, is sustainable, and produces energy in a sustainable way.
Abengoa claimed that its gasification solution is not limited to the organic fraction of MSW, but also allows the use of other components, both recyclable and non-recyclable waste plastics, by using different technologies to obtain biodiesel and energetic valuation for the steam and electricity generation.
Recently, the company said that it has started operating its first demonstration plant with 'waste to biofuels' technology in Salamanca, Spain. (See WMW Story)
This plant has a capacity to process 25,000 tons of MSW to produce up to 1.5 million litres of bioethanol suitable as fuel.
Source: Waste Management World
Read More

Free Webcast – Accelerating Waste to Fuels: A Commercial and Viable Solution?
Trial projects have successfully converted municipal solid waste into a useable, second generation biofuel. Commercialization is now in full swing with the UK, US and Canada leading the way. Tune into WMW's new webcast to find out more! Speakers to include the NNFCC, Solena Fuels and Enerkem.
Waste to Energy & Biofuel Projects Backed by Canadian Government
Waste to energy and biofuel projects are to receive funding from the Canadian federal government following its $82 million backing for 55 innovative new projects aimed at producing and using energy in a cleaner, more efficient way.
Maui Selects Anaergia for Waste to Biofuels Project
Maui County has selected Anaergia Services' 100,000 TPA waste to biofuels and energy project, from a field of 20 proposals received.