The project is located in Souss-Massa-Draa, province of Ouarzazate in Morocco, approximately 200 km south of Marrakesh.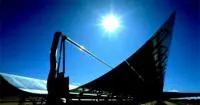 ACWA Power Ouarzazate has on Monday 29 April 2013, awarded an EPC Contract to the Spanish consortium composed of Acciona, Sener and TSK to construct the 160 MWe Ouarzazate parabolic trough Concentrated Solar Power (CSP) Independent Power Project (IPP) in Morocco. The EPC Contractor has commenced engineering and procurement for the plant in accordance with a Limited Notice to Proceed Agreement. The EPC consortium will procure a significant part of the scope locally in Morocco.
ACWA Power Ouarzazate is a company owned by ACWA Power, Saudi Arabia; the Moroccan Agency for Solar Energy (Masen), Morocco; Aries and TSK both of Spain. Ouarzazate 160MWe CSP plant with 3 hours of thermal storage is today the world's largest parabolic trough CSP power plant and the first utility size thermal solar generation project in Morocco. The project is located in Souss-Massa-Draa, province of Ouarzazate in Morocco, approximately 200 km south of Marrakesh.
Paddy Padmanathan the President and CEO of ACWA Power said "The award of the EPC Contract today is in line with our plans to bring the plant online to meet  commercial operation date (COD) during the second half of 2015".
Padmanathan went on to say "ACWA Power believes entering into a new market as an investor and operator also means embarking on a long-term relationship with the country as a whole and the local community specifically. Therefore the EPC Contract has been structured to maximize economic value creation within Morocco by not just encouraging local manufacturing but also in skills transfer, training and local capacity building."
The Operation and Maintenance will be undertaken by NOMAC, a subsidiary of ACWA Power. Masen will be the off-taker of the energy produced according to the 25-year PPA signed on 19 November 2012.
The 160 MWe Ouarzazate CSP IPP Project is to be developed on a Build, Own, Operate and Transfer (BOOT) basis. It is the first project for Masen in a series of several planned developments at the Ouarzazate Solar Complex. The Ouarzazate complex is set to be developed into a 500MWe solar complex incorporating several utility-scale solar power plants using various solar technologies.
Whilst Morocco currently relies heavily on coal and other conventional sources to meet its energy needs, the country is well endowed with renewable energy resources that offer sustainable alternatives to fossil fuels. With the CSP technology used, the project will serve to abate a "green approach" saving approximately 470,000 tons of CO2 equivalent emissions every year of operation.
Source: World Of Renewables