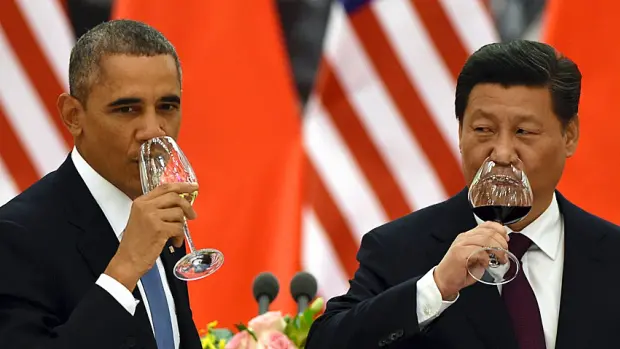 NEW YORK: China and the US – the world's two biggest economies and greenhouse gas emitters – have announced an ambitious new climate deal, with China setting its first ever commitment to curb emissions by 2030.
US President Barack Obama and China President Xi Jinping revealed the package of climate plans early this morning, in what is being described by international media as a "game-changer" for the climate.
US-China collaboration is widely accepted as critical for meaningful progress toward achieving a global climate deal to keep the planet's temperatures to safe levels, especially given that the countries account for 40% of the world's total greenhouse gas emissions.
AMBITIOUS TARGETS
President Obama announced the US will nearly double its current efforts by reducing carbon emissions 26-28% below 2005 levels by 2025, a move which should accelerate the nation toward its planned 80% reduction by 2050.
And for the first time ever, China set the date for when it will "peak" its greenhouse gas emissions and start cutting its pollution – as 2030.
This is the first time China, or any emerging economy, has agreed to an absolute emissions target. Following theEU's announcement two weeks ago, three of the world's five biggest emitters have now made public reduction commitments.
China also pledged to increase its share of non-fossil energy to around 20% by 2030, up from less than 10% last year, which will mean China must deliver an extra 800-1,000 gigawatts of wind, solar and other zero emission generation capacity by 2030. This amount is close to the US' total electricity generation capacity.
US-CHINA LEADERSHIP
The strong bilateral cooperation between US and China has been progressing quietly for months, spotlighted by key moments including the joint announcement to phase out HFCs last year, as well as progress in the US-China Climate Working Group earlier this year.
This strong joint leadership is expected to urge other major emitters to follow suit, boost confidence for investors and companies to innovate solutions to climate change, as well as spur progress toward securing a global climate deals at next year's COP21 Paris.
Globally the announcement has been welcomed, and while the targets could be more ambitious, they are achievable if emissions cuts are adequately increased. Most significantly, the surprise announcement should give a much-needed boost to the global climate talks taking place in Peru next month.
In an op-ed for the New York Times, John Kerry, US Secretary of State, wrote: "Our announcement can inject momentum into the global climate negotiations, which resume in less than three weeks in Lima, Peru, and culminate next year in Paris."
The Secretary of State concluded: "Two countries regarded for 20 years as the leaders of opposing camps in climate negotiations – have come together to find common ground, determined to make lasting progress on an unprecedented global challenge. Let's ensure that this is the first step toward a world that is more prosperous and more secure."