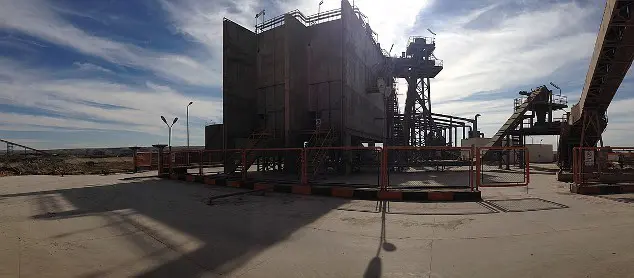 Egyptian cement producer, Suez Cement Group of Companies (SCGC) has opened a waste processing facility at its Kattameya cement plant to produce waste derived fuel from pre-sorted waste.
According to the company the facility is the first of its kind in the country and it took almost a year to complete at a cost of around €5 million.
The plant is part of Suez Cement's strategy to boost the amount of energy it recovers from Refuse Derived Fuels (RDFs), and has been built in compliance with Egyptian environmental law.
Processing around 35,000 tonnes of wastes per year, the RDF facility is expected to provide up to 20% of the fuel required by the plant.
According to Suez Cement, the new facility will allow it to diversify its energy mix, lower its dependence on fossil fuels and put Egyptian waste to good use.
The company added that it has been developed as part of a its strategy to replace traditional fuels like gas and mazot (fuel oil) which have become scarce in Egypt, with coal and petroleum coke, and develop renewable energies such as waste fuels and renewable power.
"Thanks to the new facility we are on track to reach our goal of producing 20% of our energy fuel needs using alternative fuels by 2017. Suez Cement is strongly determined to continue making meaningful and valuable contributions to the socio-economic development of Egypt," commented Bruno Carre', Suez Cement CEO.
Benefits
Suez Cement said that it expects the new facility to reduce CO2 emissions by 39,600 tonnes per year, thus mitigating the possible future negative impacts from the use of coal instead of mazot.
The company added that other benefits include ensuring local production of high quality and competitive cement for the construction industry, which is one the main drivers of the economy.
Since its acquisition by Italcementi Group (IT:BrsaItaliana), Suez Cement said that it has invested a significant percentage of its industrial investments in the implementation of a comprehensive environmental and safety policy.
The company said that this has significantly lowered their dust emission rates from its facilities to well below industry and governmental limits.
The program also encompasses several major pollution abatement and emissions control projects launched in cooperation with the Egyptian Environmental Affairs Agency and the World Bank.
Read More
Moroccan Landfill Rehabilitation & Recycling Facility Contract for SITA
The Meknes municipal authority in Morocco has commissioned SITA Atlas to rehabilitate its household waste landfill site and to build and operate a waste elimination and recycling facility.
70,000 Waste & Recycling Jobs for Morocco with $130m World Bank Loan
The World Bank is to make a $130 million loan to Morocco in support of reforming the solid waste sector and create up to 70000 jobs in recycling activities.
Arabian Blights
Social, economic and industrial development in the Arab region, coupled with an expanding population has created an explosion in the generation of solid waste over recent decades. Dr Abdallah Nassour and colleagues from the University of Rostock examine some of the difficulties the region must overcome if it is to embrace a modern approach to solid waste management.