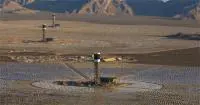 Energy Secretary Ernest Moniz will participate today in the opening of the Ivanpah Solar Energy Generating System, the world's largest concentrating solar power (CSP) plant.
As President Obama highlighted in his State of the Union address, the U.S. is becoming a global leader in solar energy — demonstrated by a new industry report which found that U.S. utility-scale solar set a record with 2.3 gigawatts installed in 2013. As the first commercial deployment of innovative power tower CSP technology in the United States, the Ivanpah project was the recipient of a $1.6 billion loan guarantee from the Department's Loan Programs Office (LPO).
"The Ivanpah project is a shining example of how America is becoming a world leader in solar energy," said Secretary Moniz. "As the President made clear in the State of the Union, we must continue to move toward a cleaner energy economy, and this project shows that building a clean energy economy creates jobs, curbs greenhouse gas emissions, and fosters American innovation."
Ivanpah has the capacity to generate 392 megawatts (MW) of clean electricity — enough to power 94,400 average American homes — most of which will be sold under long-term power purchase agreements to Pacific Gas & Electric and Southern California Edison Company. The project is a joint effort by NRG, Google, and BrightSource Energy, and Bechtel served as the engineering, procurement, and construction contractor.
"This project was made possible by the successful public-private partnership between the Department of Energy and the project sponsors," said Peter Davidson, LPO Executive Director. "Through partnerships like this, we can continue to build an innovative clean energy economy in the U.S."
Ivanpah is one of five CSP projects that received loan guarantees from the Department, and when these projects are completed, they will provide a combined 1.26 gigawatts (GW) of electric capacity. These loan guarantees, are also helping to finance the first solar thermal storage project and the first power tower with solar thermal storage in the U.S., as well as some of the world's largest parabolic trough CSP plants. In addition to construction, operations and maintenance jobs, these projects are creating jobs in a national supply chain that reaches 39 states.
Currently, the LPO supports a large, diverse portfolio of more than $30 billion supporting more than 30 closed and committed projects. The LPO portfolio includes one of the world's largest wind farms; several of the world's largest solar generation and thermal energy storage systems; the first new commercial nuclear power plant to be licensed and built in the United States in three decades; and more than a dozen new or retooled auto manufacturing plants across the country. Learn more at
 http://lpo.energy.gov