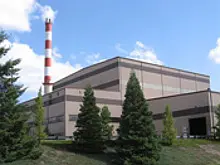 Marion County, Oregon has extended its agreement with  Covanta Marion – a subsidiary of New Jersey based waste to energy firm, Covanta Energy (NYSE: CVA) for disposal of the county's waste at the Covanta Marion waste to energy facility.
The company explained that the new agreement, which is for up to five years, has been approved by the Marion County Board of Commissioners and begins in September 2014 – after the expiration of the existing 30-year agreement.
Covanta added that its Marion facility has been recovering energy from waste since 1987 as a critical component of the county's sustainable, integrated waste management system.
According to the company, the county has built a high quality system which prioritises recycling and has achieved a recycling rate of approximately 60% – more than double the national average – and recovers energy from the remaining residual waste.
The Marian County waste to energy facility is capable of processing around 550 tons (500 tonnes) per day of waste and generating 13.1 MW of electricity, which is sold to Portland General Electric.
Covanta explained that the revenues generated by the sale of electricity and metal recycling enable the county to provide residents with innovative recycling programs including, among other things, a Kerbside collection program for non-traditional recyclable materials such as latex paint, household batteries, motor oil, antifreeze and cooking oil.
Under terms of the new agreement, the county will continue to supply 145,000 tons of municipal solid waste per year to Covanta.
Since opening its doors in 1987, Covanta said that its Marion County facility has:
Converted approximately 5 million tons (4.5 million tonnes) of municipal solid waste into approximately 2.2 million MWh of electricity – enough to power over 190,000 homes for a year
Recovered and recycled approximately 100,000 tons (91,000 tonnes) of metal – equivalent amount of steel used to build more than 80,000 automobiles
Reduced approximately 5 million tons (4.5 million tonnes) of greenhouse gases – equal the annual greenhouse gases produced by nearly 950,000 passenger vehicles.
Read More
Covanta Waste to Energy Plant in Florida Verified to Sell Voluntary Carbon Offsets
Carbon offset credits generated by Covanta's 46.5 MW Hillsborough County Resource Recovery Facility have been verified for purchase on the voluntary market.
Biofuel from Food Waste Certification in US Following Corn Plant Conversion
California based renewable fuel specialist, Aemetis has been granted approval to produce ethanol from separated food waste at its 55 million gallon per year renewable ethanol plant in Keyes, California.
Food Waste Costing the Earth – And $750 Billion per Year
Around the world some 1.3 billion tonnes of food waste is produced annually, at a direct economic cost of some $750 billion, according to a new report by the UN.