Global Water Group Introduces Next-Generation Waste Water Treatment and Recycling System; No Sludge, No Odor, Highest Quality Potable Output
Dallas, TX (PRWEB) February 18, 2010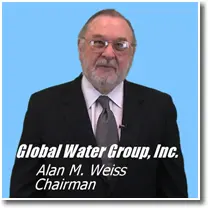 An advanced, modular waste water treatment and recycling system – using technology originally designed for the US Military and the oil and gas industry – is now available for cities, industrial customers and other users, says Global Water Group, Inc., Dallas, TX-based manufacturer of advanced water processing systems.
Global Water, http://www.globalwater.com, employs an advanced extended aeration/activated sludge waste water treatment system that processes water in half the time of conventional aeration systems. Using modular units, the waste water treatment system operates in combination with a separate recycling unit and a purification unit. The end result is recycled water that is unsurpassed in purity and taste, says Global Water President/CEO Alan M. Weiss.
Even with three integrated systems, Weiss said, the Global Water modular units are cost competitive with other treatment systems. The modular units also are easy to maintain and operate, he said.
Global Water's proprietary extended aeration – recycling systems are applicable for flows of a few thousand gallons to tens of millions of gallons per day. These modular systems are suitable for municipalities, villages, condominiums, schools, restaurants, motels, hotels, mobile home parks, oil field platform rigs, new developments or any place where sewage processing is required.
These models can be constructed of standard configurations or engineered for custom designed special configurations. Regardless of size or configuration, the Global Water waste water and recycling systems feature:
No sludge to dispose;
Minimal required maintenance, and
Effluent that meets WHO drinking standards.
Raw sewage enters the unit through the intake line and passes through a bar screen, which keeps out any large solids. A super-diffuser system introduces air into the Digester. The air bubbles that are generated provide the oxygen necessary to sustain the bacteria that devours the organics.
The solution is displaced from the Digester to a clarification chamber. There the remaining solids either float to the surface or settle to the bottom and are returned by a vacuum system to the Digester, maintaining a higher active bacteria count until the solids are eliminated.
The clear effluent of the Clarifier chamber flows into the Global Recycling System which captures all suspended solids down to 5-Microns. Those solids are also returned to the Digester. The flow passing through the Recycler enters the Global LS3 three-process water purification system — removing parasites down to 1-Micron; removing and/or significantly reducing all hazardous chemicals; and using Ultra-Violet, killing any disease-carrying bacteria and viruses that remain.
The Global waste water process involves only three steps:
1. Use air and bacteria to eliminate waste in the water;
2. Recycle all suspended solids, and
3. Purify the effluent.
Maintenance and power requirements on this unit are minimal. No special equipment is needed.
Global Water manufactures mobile, fixed-base and modular municipal water processing systems. Modularization for municipal systems enables faster manufacturing and installation, easier access, easier and less costly maintenance, Weiss said.
The control systems are all custom-designed for optimal quality control. All of Global Water's systems meet or exceed US-EPA, U.S. ANSI, EU and WHO potable water standards.
###
©Copyright 1997-
, Vocus PRW Holdings, LLC.
Vocus, PRWeb, and Publicity Wire are trademarks or registered trademarks of Vocus, Inc. or Vocus PRW Holdings, LLC.