Green Energy Toys supports Mission Antarctica 2048 from Team Wilco Van Rooijen.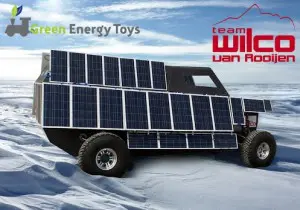 Mission Antarctica 2048: an adventurous 100% solar powered journey with a pure mission: to inspire the youth with their adventures and expeditions in order to create awareness and ultimately educate them on sustainability. 'Because the kids of today are the decision makers of the future'. Ultimately, they will decide on our planet's future. That means, on Antarctica's future as well: in 2048, the environmental protocol, which currently protects this last pristine continent, will end.
Sustainability Youth Ambassadors
Team Wilco van Rooijen aims to involve young people in its quest by implementing an educational programme and sustainability contest in schools, with a view to creating Sustainability Youth Ambassadors for the future.