Frisco, TX (PRWEB) February 02, 2012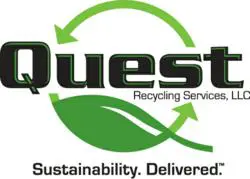 At their annual banquet and awards ceremony on January 27, 2012, the Frisco Chamber of Commerce named Quest Recycling Services its "2012 Medium-Sized Business of the Year."
Quest was selected from among qualifying businesses in the area for its growth, community involvement, strategic planning, and corporate business models.
"Quest is honored to be recognized for the hard work and dedication of our team," said Brian Dick, Quest CEO. "We are very fortunate to have great people here helping us achieve our goals."
Frisco Chamber of Commerce Executive Director Tony Felker said, "Quest has always been a great partner in the North Texas business community and we were pleased to acknowledge their year-on-year growth and involvement in Frisco."
Quest Recycling is at the forefront of waste minimization, food waste recycling, and waste-to-energy movements. Working with clients in all 50 United States and Canada, Quest is directly responsible for the diversion of over 1 billion pounds of waste from landfill in 2010.
About Quest Recycling Services: Quest is one of the nation's fastest growing full-service recycling companies. Headquartered in Frisco, Texas, Quest manages the recycling effort of over 8,500 client locations throughout the US and Canada. Quest customers span from automotive to industrial, fleet, municipalities, hospitality and foodservice industries. Quest also partners with Earth911 to inform consumers about recycling and local community resources.
###
©Copyright 1997-
, Vocus PRW Holdings, LLC.
Vocus, PRWeb, and Publicity Wire are trademarks or registered trademarks of Vocus, Inc. or Vocus PRW Holdings, LLC.