MENA Water Resource World Conference in Dubai Shares Updates on Region's Water-Management Policies & Investment Opportunities in Middle East
Dubai, UAE (PRWEB) December 10, 2009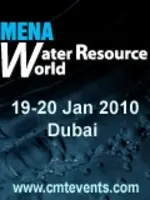 The Middle East MENA Water Resource World conference, a global forum dedicated to water supply issues and solutions in the Middle East and North Africa region, will meet in Dubai on January 19-20, 2010. The conference is held under the patronage of H.E. Rashid Ahmad Bin Fahad, UAE's Minister of Environment & Water, who will deliver the keynote address on, "Water Policies, Opportunities & Challenges in the UAE"
Increasing awareness about the emerging water crisis has lead to urgent calls for solutions to increase water production and optimizing its use, so as to stabilize the current situation and generate growth in the water management industry in the Middle East and North Africa. Hence Governments and water authorities in the region are intensifying efforts and seeking private sector participation to increase water production.
Recent published reports point to massive opportunities in the region. Saudi Arabia called for over $ 53 billion in investment to increase its desalination capacity to 10.7 million cubic metres per day by 2020. (Zawya) The UAE too needs to invest at least $ 10 billion in water investment to satisfy growing water needs. (Workingwithwater.net) In the North Africa region, Egypt has embarked on a program to overhaul and expand its water infrastructure restructuring policies to attract more investment and industry involvement. Algeria has plans to build coastal desalination plants and have offered a succession of 25-year BOT projects. Tunisia's government is also pushing for the development of private desalination plants. (Global Water Intelligence)
In view of these emerging opportunities, Middle East MENA Water Resource World has invited regulators and government representatives from UAE, Saudi Arabia, Qatar, Oman, Tunisia, Libya and Algeria, to present updates on:
Water Policies, Opportunities & Challenges in the UAE, by HE. Rashid Ahmad Bin Fahad, Minister of Environment & Water (UAE)
Latest Developments in the Water Sector in Saudi Arabia, by Dr. Abdullah M. Al Shehri, Vice-Governor for Regulatory Affairs, Electricity & Co-Generation Regulatory Authority Saudi Arabia
Water Infrastructure Plans and Developments in Qatar, by Fahad R. Al-Kaabi, Manager- Water Projects, KAHRAMMA (Qatar General Electricity & Water Corporation)
Opportunities & Challenges for Investments in Oman's Water Sector for the Next 5 Years by Mr. Zahir Khalid Suleiman Al-Suleimani, Director General of Projects, Public Authority for Electricity and Water (Oman)
Water Infrastructure Plans and Developments in Libya by Dr. Ali Rashaida, Director of Studies & Consulting, Libya Housing & Infrastructure Board (Libyan HIB)
Investment Potential & Challenges in Tunisia's Water Sector by Mr. Mohammed Zaara, Directeur du Dessalement et de l'Environnement, SONEDE Tunisia
Investments in Algeria's Water Sector by Mr. Maouche Lounis, Director of Planning and Economic Affairs, Ministry of Water Resources (Algeria)
Strategies to Manage Leakage in Water Distribution Systems Effectively and Efficiently & Wastewater Management Strategies in Egypt by Eng. Mamdouh Raslan, Deputy Chairman, Holding Company for Water and Wastewater Egypt.
Middle East MENA Water Resource World conference will also address financing, public-private partnerships and water management tools and solutions that are gaining prominence in the region including leakage management, desalination, sludge management and wastewater treatment, and panelists include:
Jay Witherspoon, Technology Director -CH2M Hill
Dr Hu Fleming, Global Director- Hatch Water
Ian D Barrett, Director of Client Services (Middle East)- Black & Veatch
Mr. Patrick Townsend, Executive Director- Instrata Capital
Dr. Don Thompson, Senior Vice President- CDM : Camp Dresser & Mckee Inc
Dr. Corrado Sommariva, Managing Director Middle East- ILF Consulting Engineers Abu Dhabi
Dr. Amyn S. Dahya, Chief Executive Officer- UtilEco
… and many more
Middle East MENA Water Resource World is organized by the Center for Management Technology, and supported by the European Desalination Association and the International Private Water Association. An international delegation of top regulators, company managers and businesspersons is expected to attend the conference, creating excellent networking opportunities for all who attend from around the world.
MENA Water Resource World is now accepting registrations for the conference, as well as enquiries on sponsorship packages, media partnerships and exhibition space. For more information, visit the MENA Water Resource World Website here
###
©Copyright 1997-
, Vocus PRW Holdings, LLC.
Vocus, PRWeb, and Publicity Wire are trademarks or registered trademarks of Vocus, Inc. or Vocus PRW Holdings, LLC.