North Adams, MA (PRWEB) December 08, 2011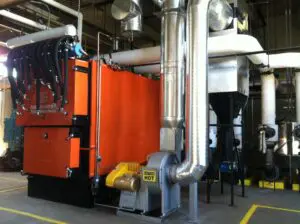 Locally owned and operated Biomass Commodities Corporation is installing a wood pellet heating boiler system at MASS MoCA slated to come online January 2012. According to Averill Cook, Biomass Commodities Corporation founder and president, "The project allows MASS MoCA to diversify a nice portion of its heating to a renewable fuel that is produced locally. Much of the raw material comes from our region as an otherwise waste byproduct of high quality timber production."
This installation is the first of its kind in Berkshire County. This is a particularly innovative installation which allows the museum to utilize an existing ash silo from the old coal plant for its wood pellet storage. This boiler, sized for MASS MoCA's own internal needs, is a state of the art, super high efficiency unit.
"Energy use is a fascinating lens through which to examine the history of this campus's tenants," said MASS MoCA Director Joseph Thompson. "From Arnold Printworks reliance on coal in the late 19th century to Sprague's conversion to oil in the 20th century to our utilization of natural gas in more recent years, the ups and downs of the tenants' of this great factory campus have always been closely tied to energy. Adding this boiler to our increasingly diversified mix of alternative energy technologies helps our bottom line while also substantially reducing our carbon footprint. Next, we hope to vastly increase the size of our photovoltaic installation, which was installed as a prototype in 2009 as part of whole series of energy conservation and alternative energy measures. We're making progress."
Biomass Commodities will supervise the installation of the boiler and combustion equipment which are made in the USA, fully computer controlled, and use the best available control technology for operations and exhaust scavenging. The SolaGen HDF-WC is a premier combustion package using a Burnham Boiler, a leader in the North American heating industry with direct ties to the local area. Adams Plumbing & Heating will execute on the mechanical installation for this equipment designed by Cannon Design out of Boston. Wood pellets will be sourced from a regional producer New England Wood Pellet, and delivered by Biomass Commodities Corporation.
About Biomass Commodities Corporation
Biomass Commodities (BCC) is a renewable energy company that offers a complete solution for wood pellet heating. BCC is a value added distributor and installer of modern wood pellet fired heating systems that provide simple, safe and efficient building heat. BCC provides pellet boiler installations and services throughout the Northeastern United States. Common applications are in centralized heating plants, buildings 10,000 sq ft or more including schools, manufacturing facilities, assisted living complexes, hospitals and residences. Visit http://www.biomasscommodities.com for more information.
###
©Copyright 1997-
, Vocus PRW Holdings, LLC.
Vocus, PRWeb, and Publicity Wire are trademarks or registered trademarks of Vocus, Inc. or Vocus PRW Holdings, LLC.