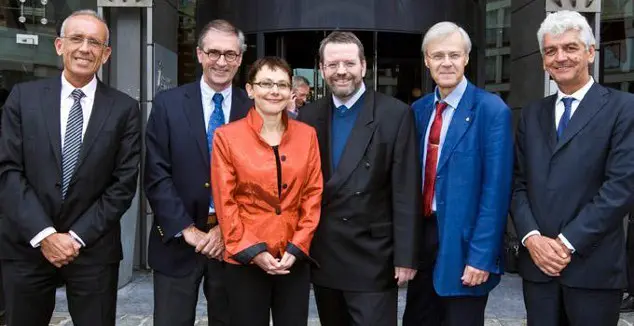 From left to right: Luc Valaize (France), Jan Manders (Netherlands), Ella Stengler (CEWEP), Ferdinand Kleppmann (Germany), Weine Wiqvist (Sweden) and Daniele Fortini (Italy).
The Confederation of European Waste-to-Energy Plants (CEWEP) has re-elected its President, Ferdinand Kleppmann for a further four year term.
German, Kleppmann, who is also the 'founding father' of the association was re-elected during the organisation's annual general meeting, held in Brussels this September.
"With the forthcoming revision of the EU waste legislation, it is essential that CEWEP has a good team at its helm to communicate the important role waste-to-energy plays in sustainable integrated waste management," commented Kleppmann.
"Treating waste not suitable for quality recycling while generating energy from it: a win-win solution for EU resource and energy efficiency goals," he added.
Kleppmann, is also President of the German Waste-to-Energy association, ITAD.
The following were re-elected as CEWEP's Deputy Presidents: Luc Valaize (President of the SVDU – France), Jan Manders (Dutch Waste Management Association), and Daniele Fortini (President of Federambiente – Italy). Weine Wiqvist (Avfall Sverige – Sweden) became CEWEP's Swedish Deputy President. He is the successor of Håkan Rylander, who has been committed to CEWEP from the very beginning.
CEWEP's President and Deputy Presidents are nominated for a period of 4 years.
Read More
€90m Waste to Energy Contracts for Fisia Babcock in Scandinavia
Fisia Babcock Environment has been awarded contracts worth €90 million to supply equipment to new combined heat and power waste to energy facilities in Finland and Sweden.
Where Next for Waste to Energy in Europe?
At this year's RWM exhibition in Birmingham, UK WMW took the opportunity to ask a number of industry leaders for their thoughts on where the biggest opportunities for waste to energy exist in Europe over the next five years.
Growing Interest in Waste Gasification Reported in U.S.
There are currently 21 demonstration scale waste to energy gasification facilities operating in the U.S. and further 17 commercial scale facilities under development, according to a report compiled for the American Chemistry Council.